SKILLGYM
Augmented Learning Experience
We brought real life experience into your device,
to change forever the way you move from learning to practice.
Immersive behavioral simulators designed to train human communication skills, delivering sustainable and stable performance improvements.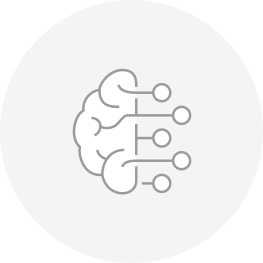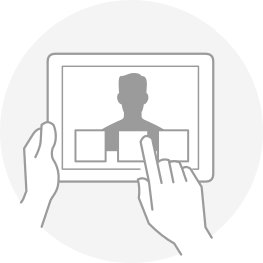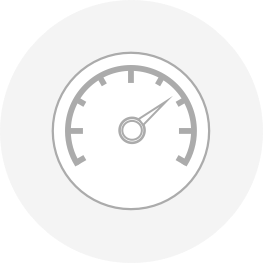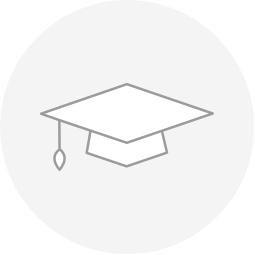 Simulation Experience
It's Real
No puppets. No Avatars. Real Actors AI driven showing all the real human behaviors you face every day. One look is worth a thousand words.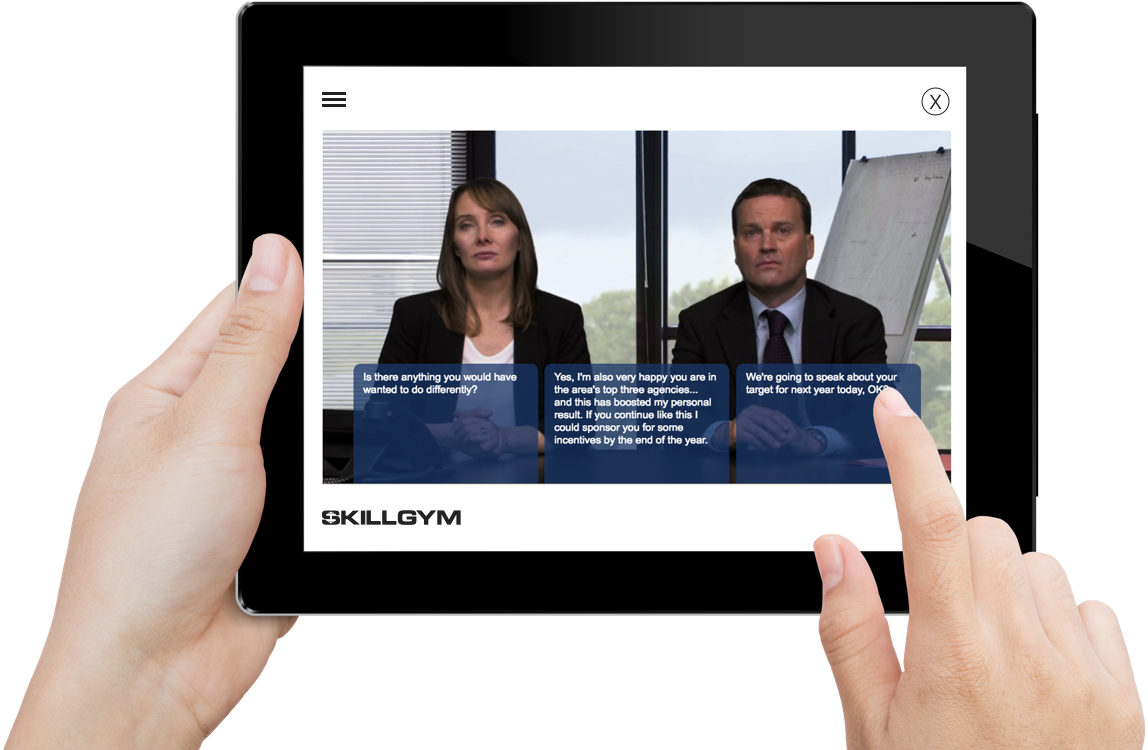 It's a seamless experience: while you choose your answer she gets distracted, she changes mood, she talks. You are fully immersed into real life.
Forget about guessing. Improve by understanding the emotional impact of your behaviors.
From the true, genuine and warm feedback of your counterpart.
Turn emotions into measurable KPIs. Your path to mastery your skills can now be precisely crafted, session after session.
SkillGym is Smart Science applied to Education
Discover the enriching union between deep Learning Theories, catching storytelling, training circuits and innovative cutting-edge technologies.
Smart Science applied to
Education
How can you turn knowledge into everyday consistent behaviors? By Practicing. This was the starting point of our research to create a powerful and immersive tool based on the most established learning theories and powered by the most advanced technology.
SkillGym incorporates the finest ingredients to ease practicing performance-oriented skills:
#1 Strong theories put to practice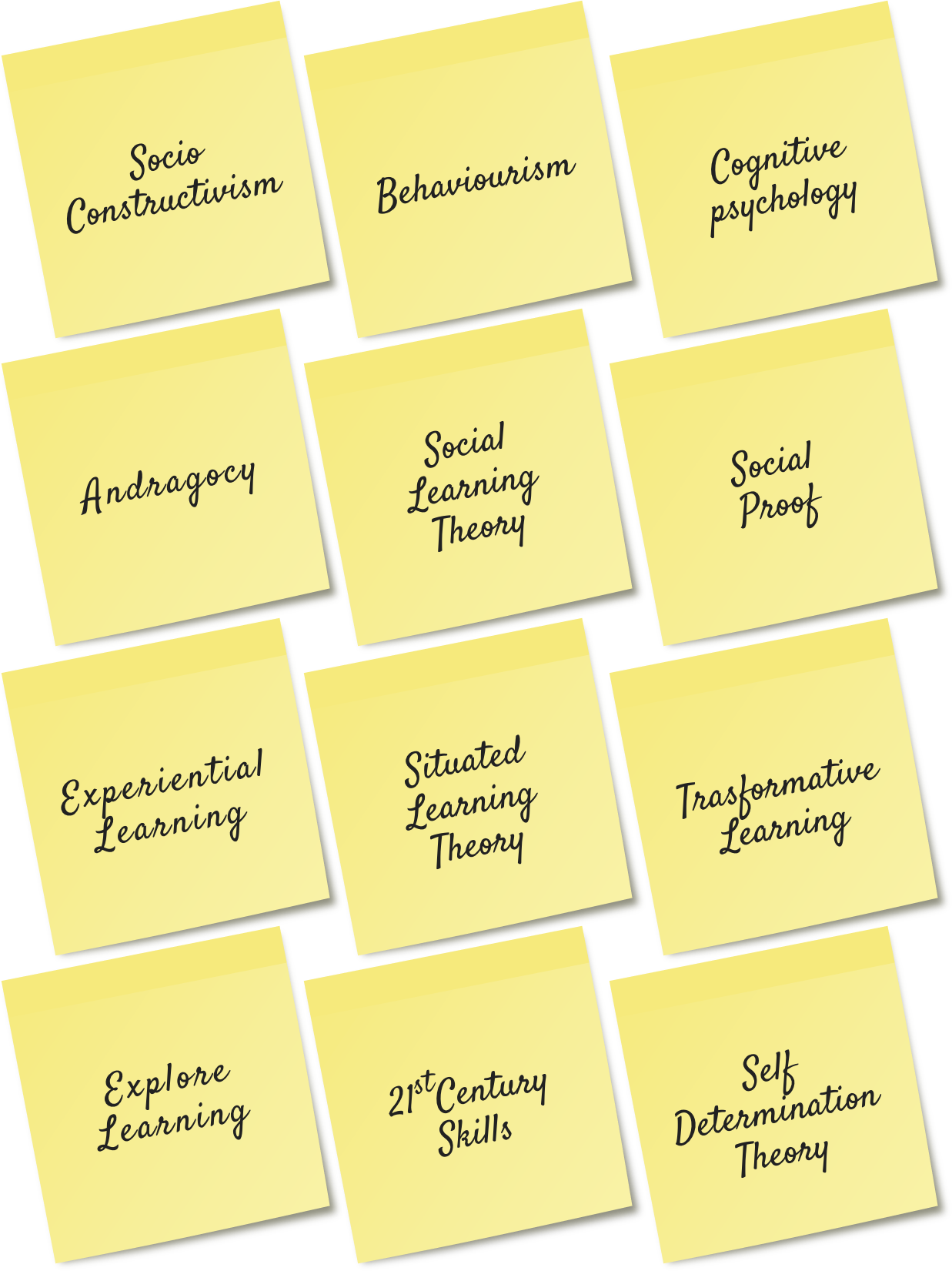 SkillGym is deeply rooted into the most renowned learning theories and our training specialists design each simulation and the entire practicing environment having in mind the best practices coming from decades of study.
In each simulation, we train the user with a situational approach: accomplish one communication objective by leveraging core competences within a task-specific communication process, in realistic everyday scenarios.
Each person inside the simulation is carefully designed taking into account every aspect characterizing a real human being: social and cultural background, explicit, hidden and collateral needs and psychometric profile. The result is an incredibly authentic fidelity of interaction.
#4 Goodbye branching. Welcome AI
Life is not predictable. Serious games are. SkillGym is powered by 12 AI algorithms that bring the character to life and make the situational interaction truly authentic. Users can't predict in advance how the counterpart will answer, thus having to adapt their behavior dynamically to the circumstances.
#5 Silence speaks louder than words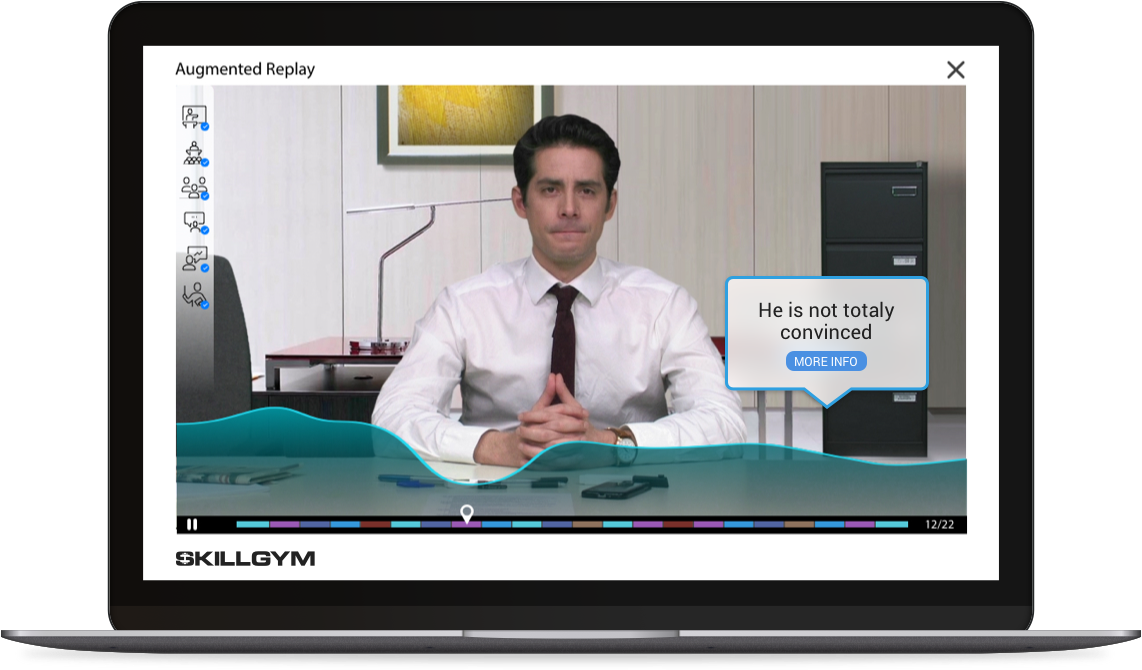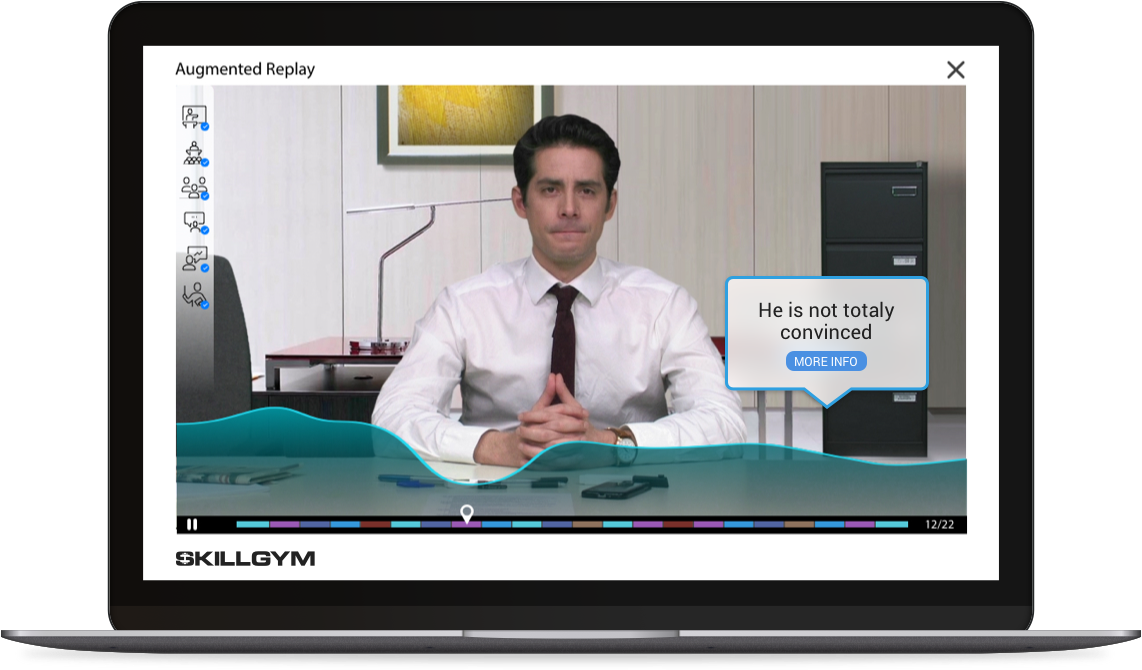 Less than 10% of communication is spoken. All the rest is subtle paraverbal and body language. This is why we invested in real time interactive video and hired the best actors to play roles. To let users catch even the smallest eye movement and learn to tell what it means.
#6 The perfect Training Circuit
Interview with the character
personalized program
Self evaluation
of the performance

Detailed analytics at the end
of each interview, to measure
in numbers performance
and behaviors

Personal scorecard
with analytics
Practicing works best when the circuit lets you try, reflect, understand, measure, try again. This is how the interview user experience of SkillGym is designed.
#7 Measuring is the beginning of change
Instant body language feedback
during the simulation
Warm feedback from
the character at the end of
the interview: his own point of view

Detailed analytics at the end
of each interview, to measure
in numbers performance
and behaviors

Ongoing trend of periodical
improvement: to define and
follow strategies
of development

Analytical recommendations
about behavior-related
knowledge theory follow-up
#8 The path to habits change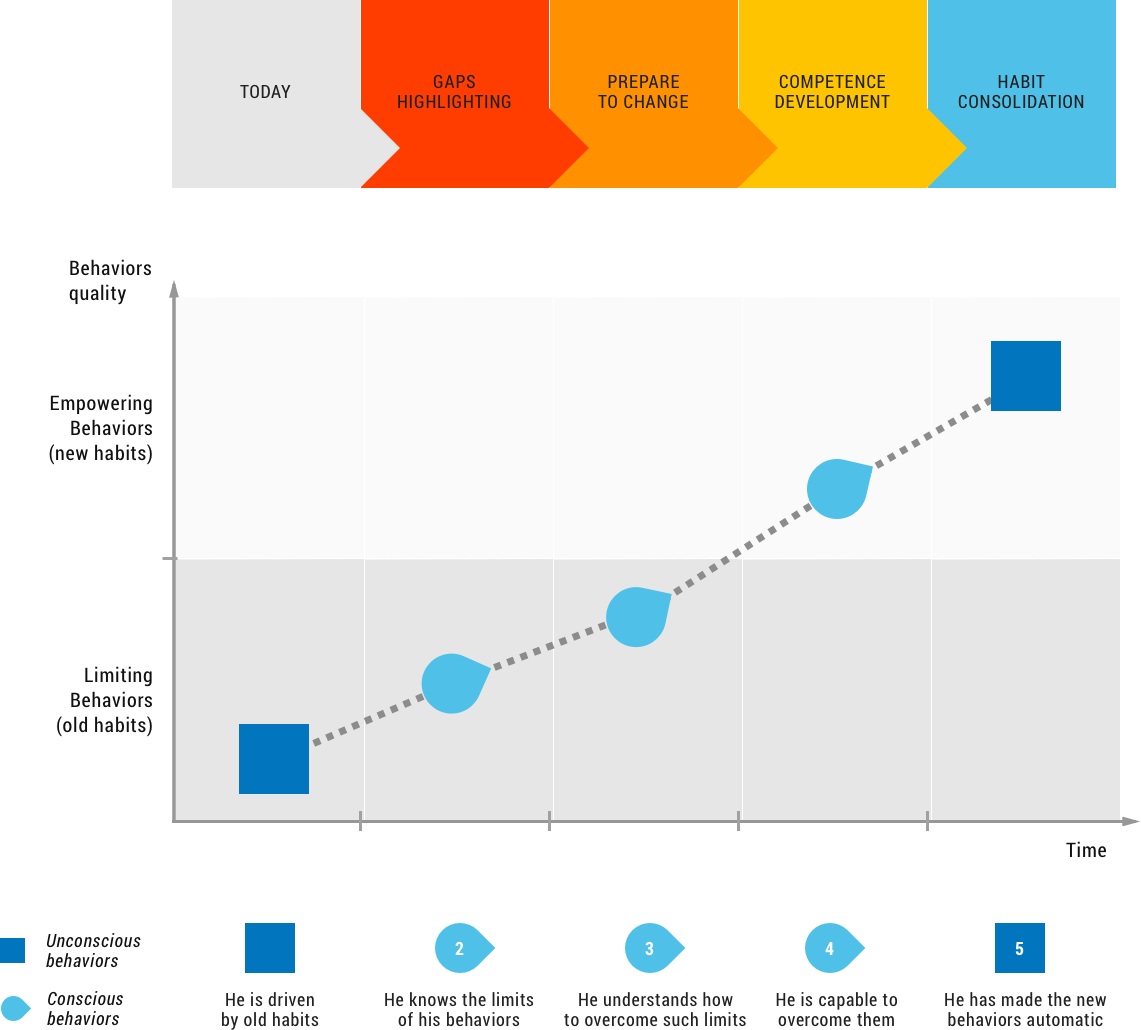 Practicing works best when the circuit lets you try, reflect, understand, measure, try again. This is how the interview user experience of SkillGym is designed.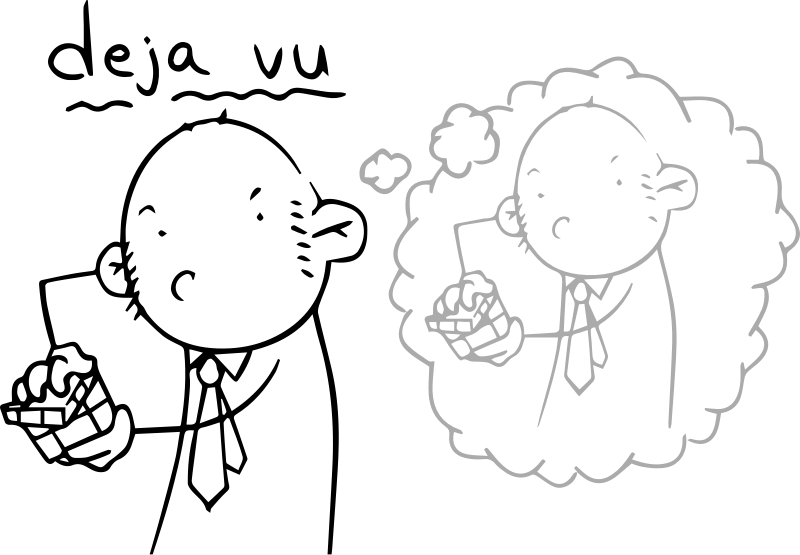 The best way to profit from our solution is practicing until you collect your personal library of Deja-vù. SkillGym authentic environment turns each interview into an experience. And experiences get memorized. You will find yourself recognizing patterns in real life so easily that your behaviors will adapt instantly, just like if you were there before.
The Best Companion for Trainers
Welcome to 21st Century
SkillGym is an essential support tool for Trainers.
Designed with the professionals in mind, it's a disruptive game-changer in making an impact, proving meaningful metrics and saving precious time.
Boost audience
engagement
A disruptive game-changer in classroom engagement: flip your storytelling, lead the discussion and challenge trainees' skills with immersive and real time life-like simulations.
Integrate it in
your models
Deep dive into the SkillGym Trainer's Guides to discover the methodological groundings of our training approach and how they fit your own professional experience.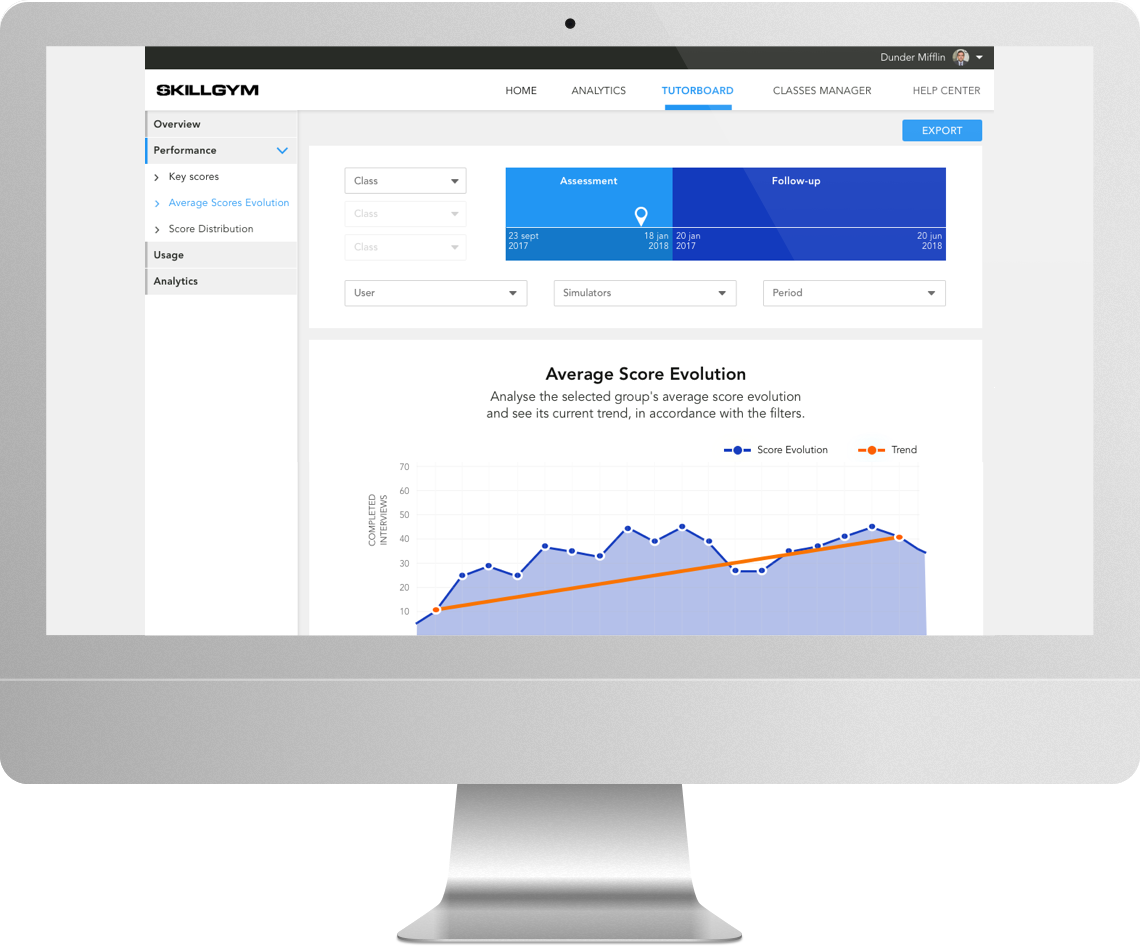 Deliver Learning
ROI metrics
Measure and deliver individual and group trainee performance improvement and effort commitment. Training evaluation forms are dead!
Assess trainees' real skills before the class begins and adapt your strategy to their real needs. Boost their involvement and ease engagement.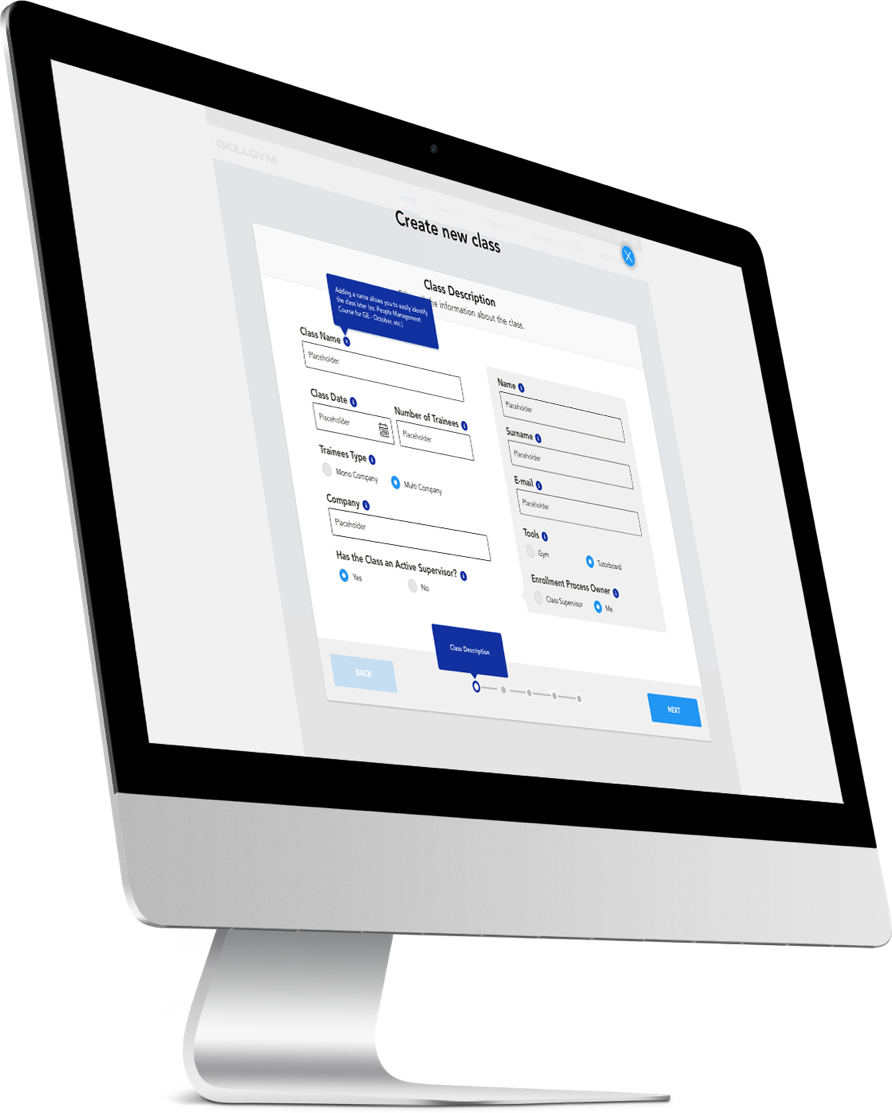 As a Trainer's companion, SkillGym offers a simple way to manage Trainees. Choose among a comprehensive library, define your training strategy and enroll trainees with one click. Then go back to your busy day.
Built for Success
Results speak louder than words
Less than one coffee break per day. This is the average commitment that SkillGymmers devote to practicing their behaviors. A little effort that brings back stunning results in building individual conversational performance.
A major French insurance company reported a significant increase in numbers of quotations generated by its sales team and an impressive increase in the number of individual closings.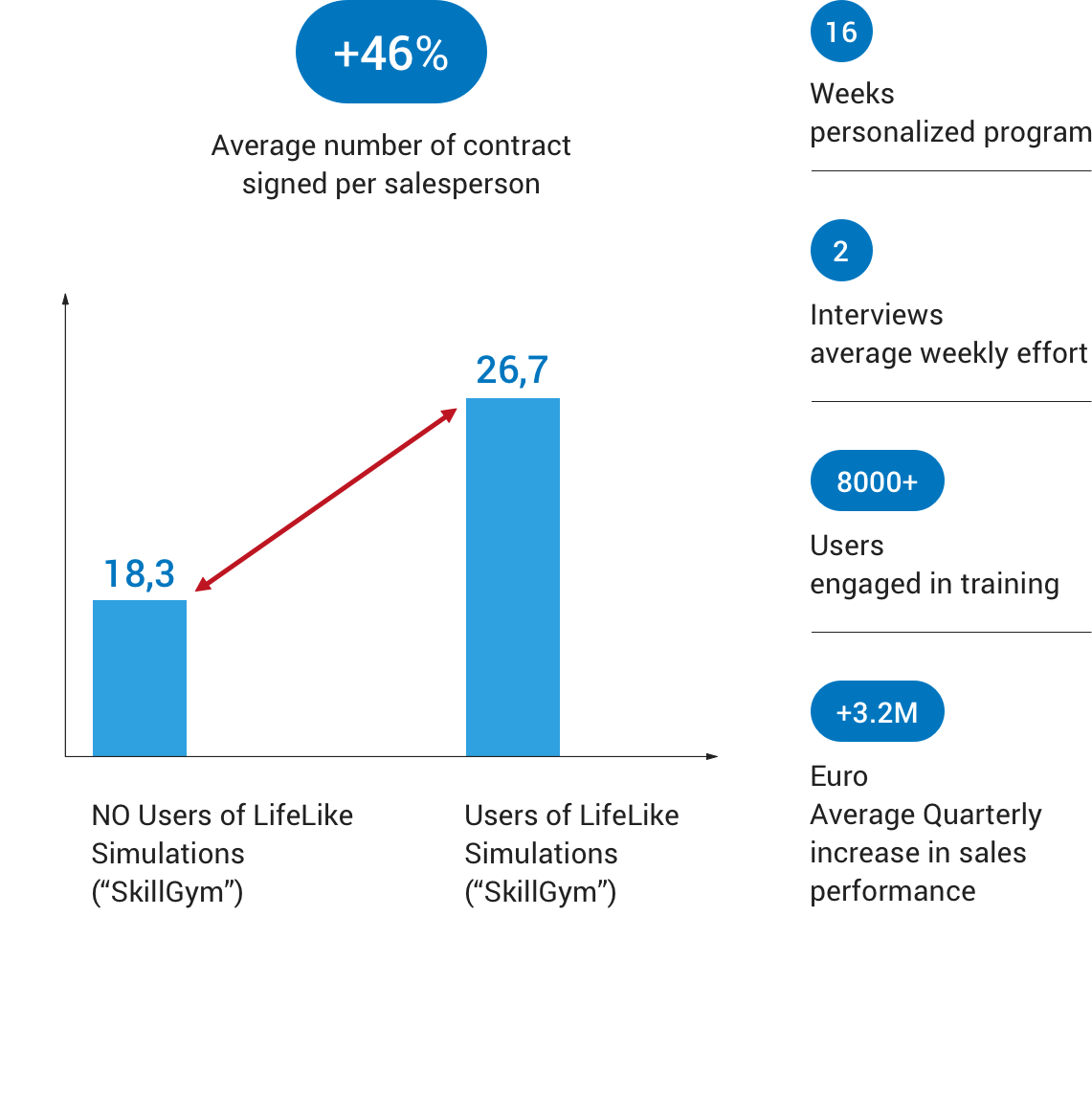 A large UK telesales company reported a major increase in the sales of its outbound telesales team when staff followed a SkillGym program.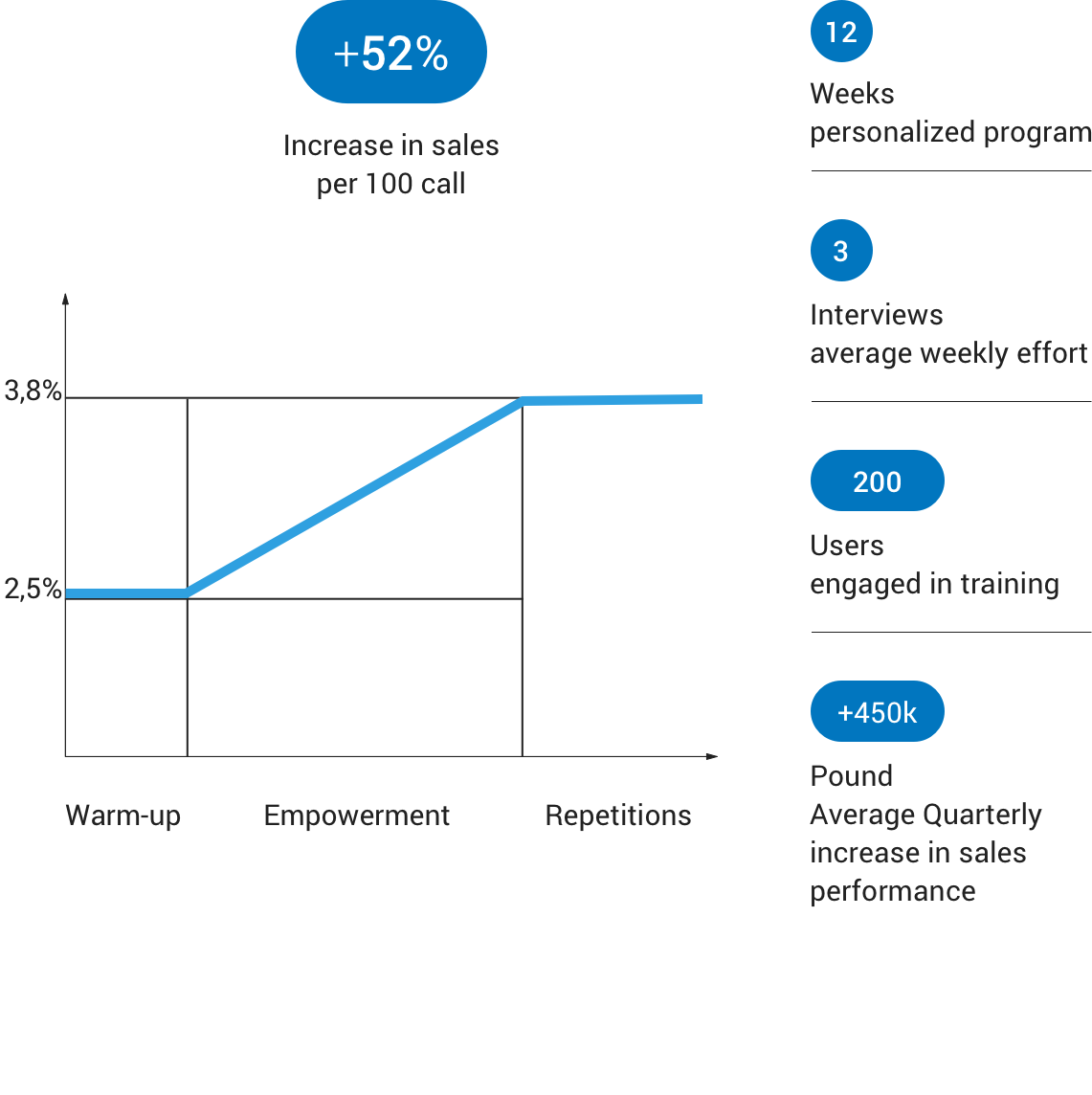 #3 University of Switzerland research paper
In 2014, an independent scientific study by the University of Switzerland concluded that SkillGym brings three times more long-term behavioral improvements compared to other training methods comparing the results of experimental group and control group across the three check-ups.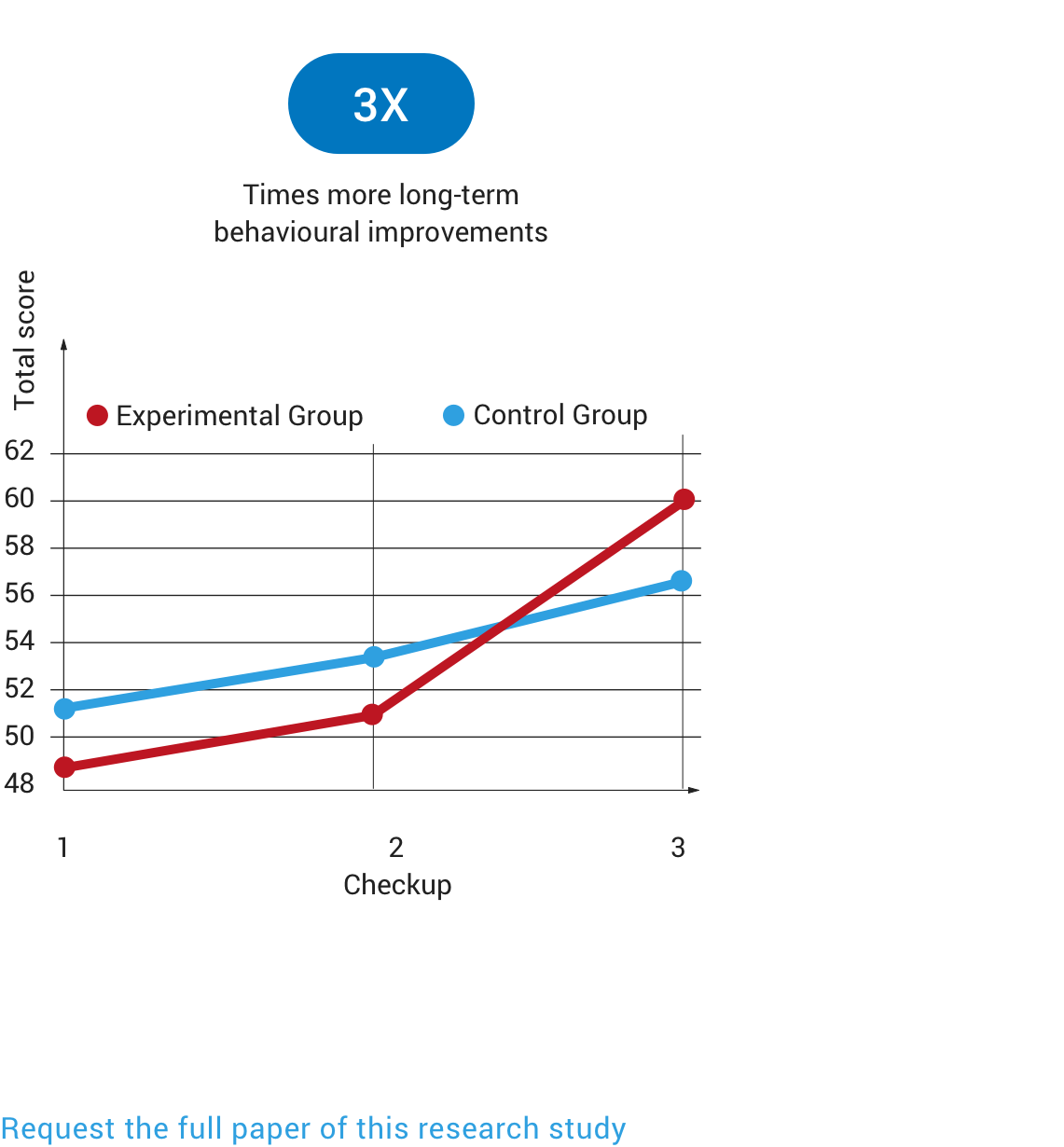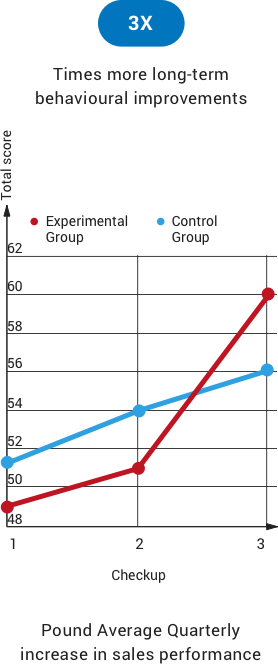 Turn Knowledge into Power
Discover how SkillGym everyday delivers results that reshape the individual performance through Authentic Scenario Based Practicing
Turn Knowledge into Power
In everything we do we behave automatically, supported by habits. Turning knowledge into new automatic behaviors requires practice to shape new habits. This is how athletes become champions.
Amateurs Practice
Until They Get It Right;
Professionals Practice
Until They Can't Get It Wrong.
Choose among a comprehensive library of situations
SkillGym offers a growing library of scenarios to choose from, each one is designed to match a real life situation with real people, real challenges, real needs and real obstacles.
Fit training in your busy agenda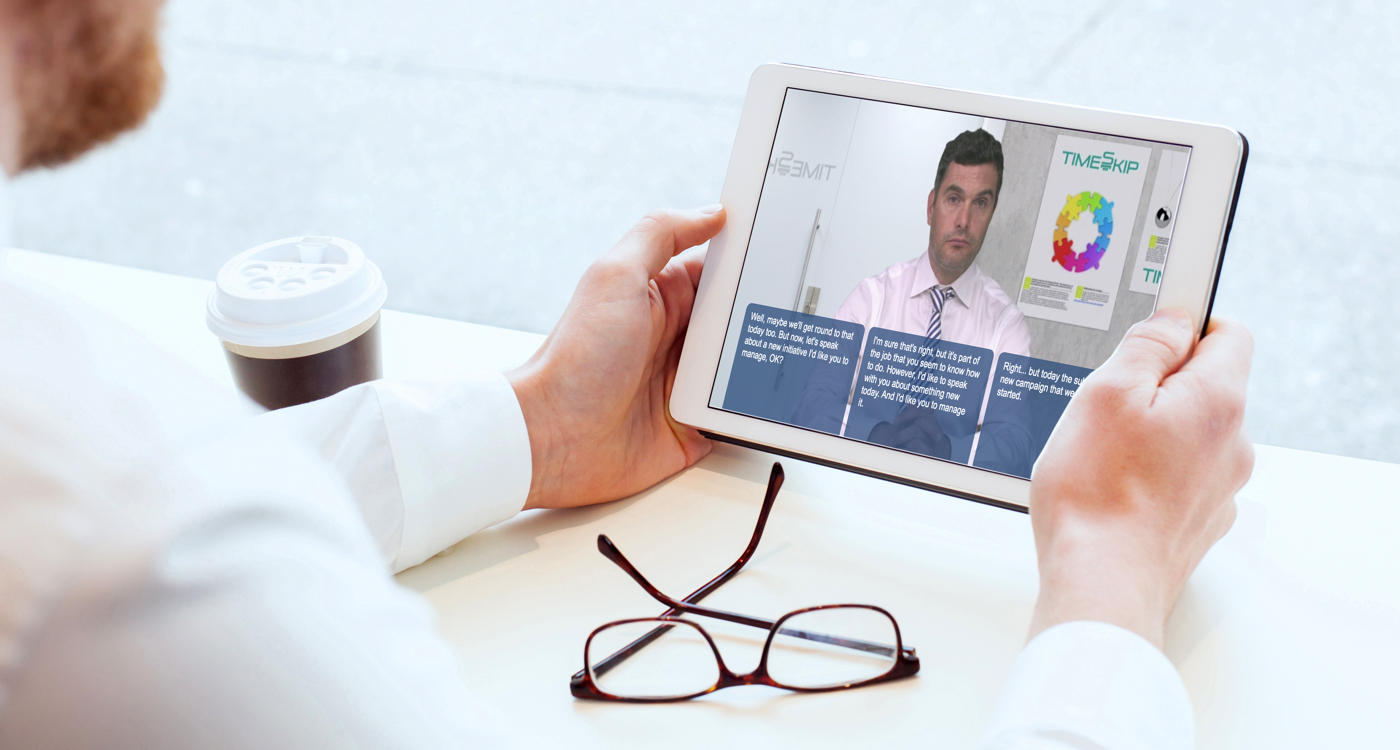 On average best performing trainees dedicate 1 hour per week, in sessions of 20-30 minutes. From anywhere they are.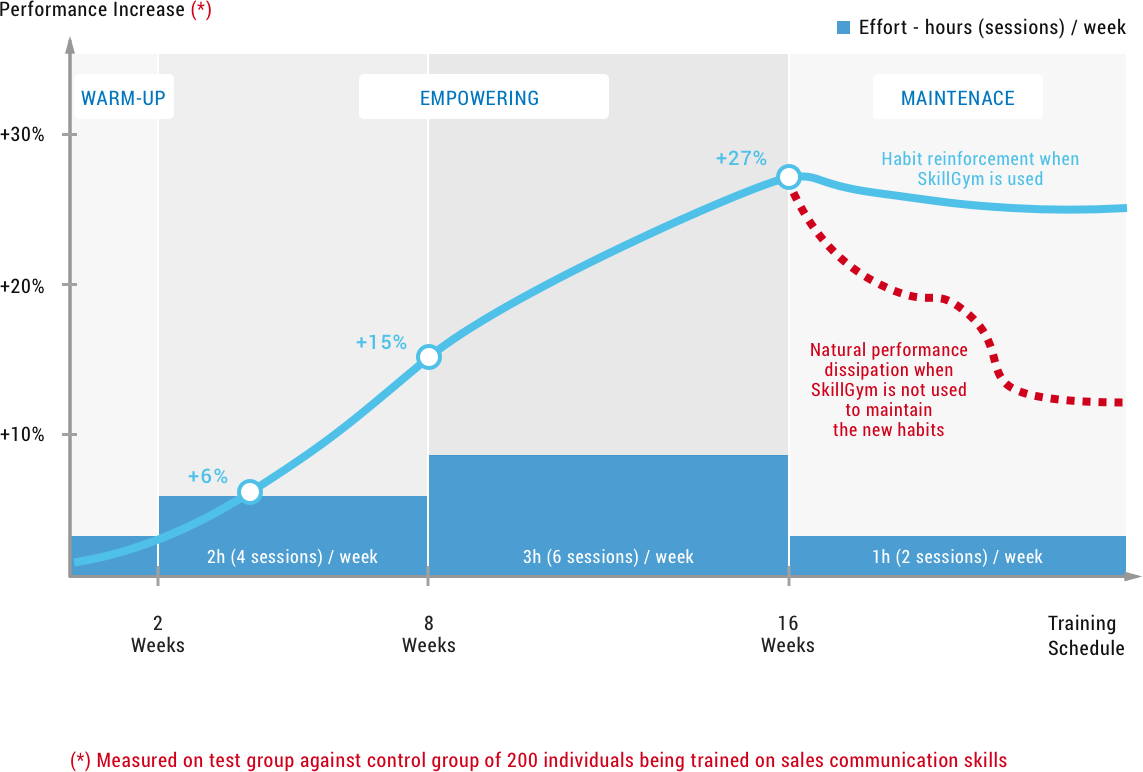 A large majority of SkillGymmers who constantly apply to their training schedule obtain measurable results in their conversational performance.
Field tests show that improvements increase and last longer proportionally to the amount of training effort spent on SkillGym.
Happy Clients Around the World
Live from Earth
Join a growing community of thousands of professional trainers,  smart companies and happy trainees who daily turn their knowledge into real power.
Happy trainers and tutors
Avg. Performance Improvement
Try SkillGym risk-free for 14 days, no credit card required