The first and most powerful AI-based platform for practicing business conversations.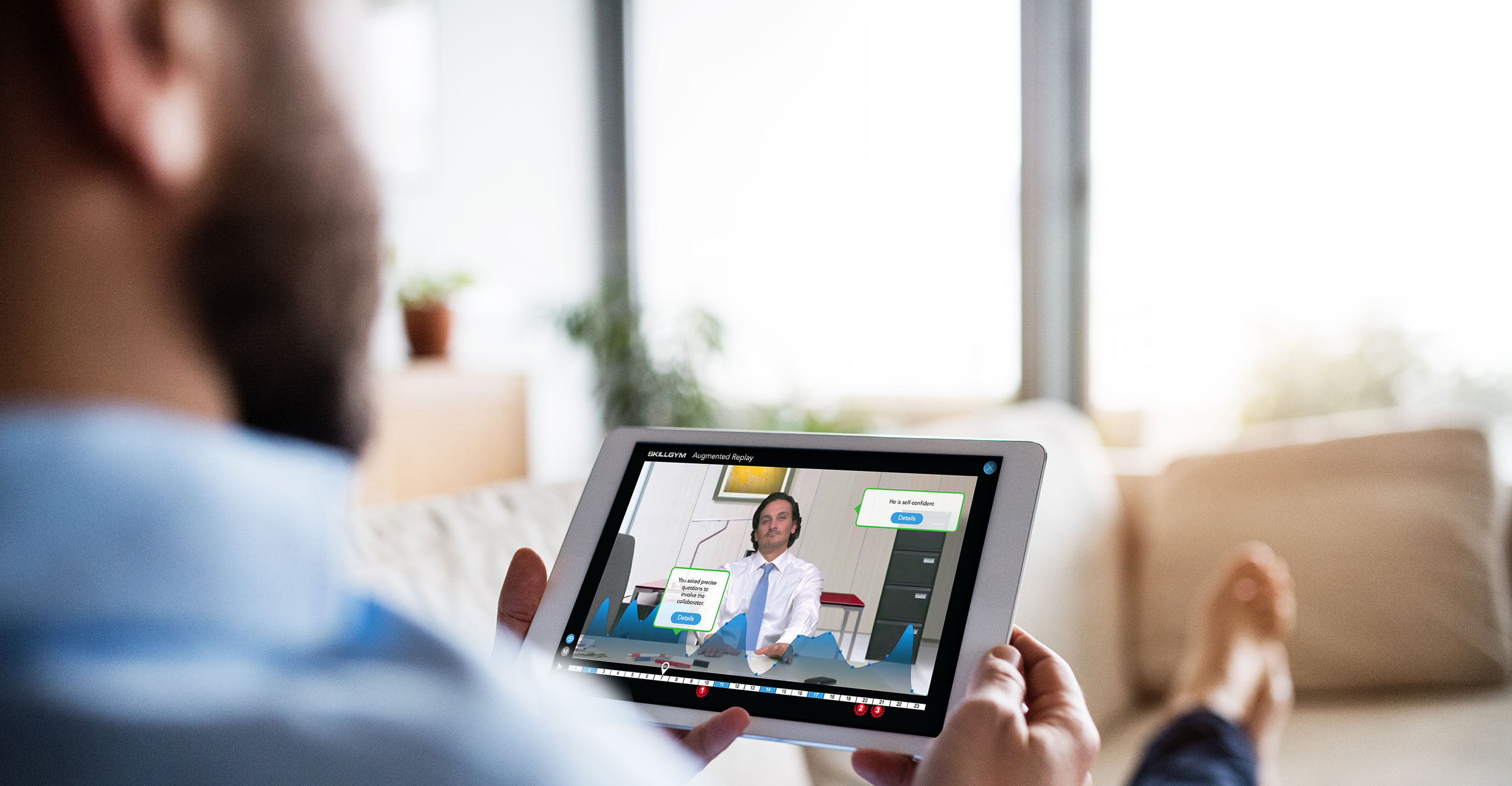 Authentic, Immersive, Real Time Practice.
We turn Leadership Conversations into Stories in which the trainees' goal is to discuss and solve business-related issues with members of their teams.
A perfect blend of training methodology and interactive technology brings true stories to life, ready for consistent practice-based training.
Digital, but still human.
Just interactive video. No puppets, no avatars. Human beings come alive in a seamless experience, where you are totally immersed in the situation.
Twelve algorithms influence the actors' emotions, hesitations and whispers, for an authentic and immersive Digital Role Play experience.
No pauses, no freezes, no branching. Everything happens in front of you and is entirely influenced by the way you play.
Behavior-driven dialogues.
Each available sentence is written by professional storytellers, showing one aspect of a typical behavior that you may want to apply at each point in the conversation.
SkillGym learns from circumstances with AI.
AI ensures that the characters' reactions reflect, in real time, the intensity of the dialogue. The result is an authentic conversation, where trainees meet all the shades of intentions, hesitations, fears and  feelings that they would expect from a real person.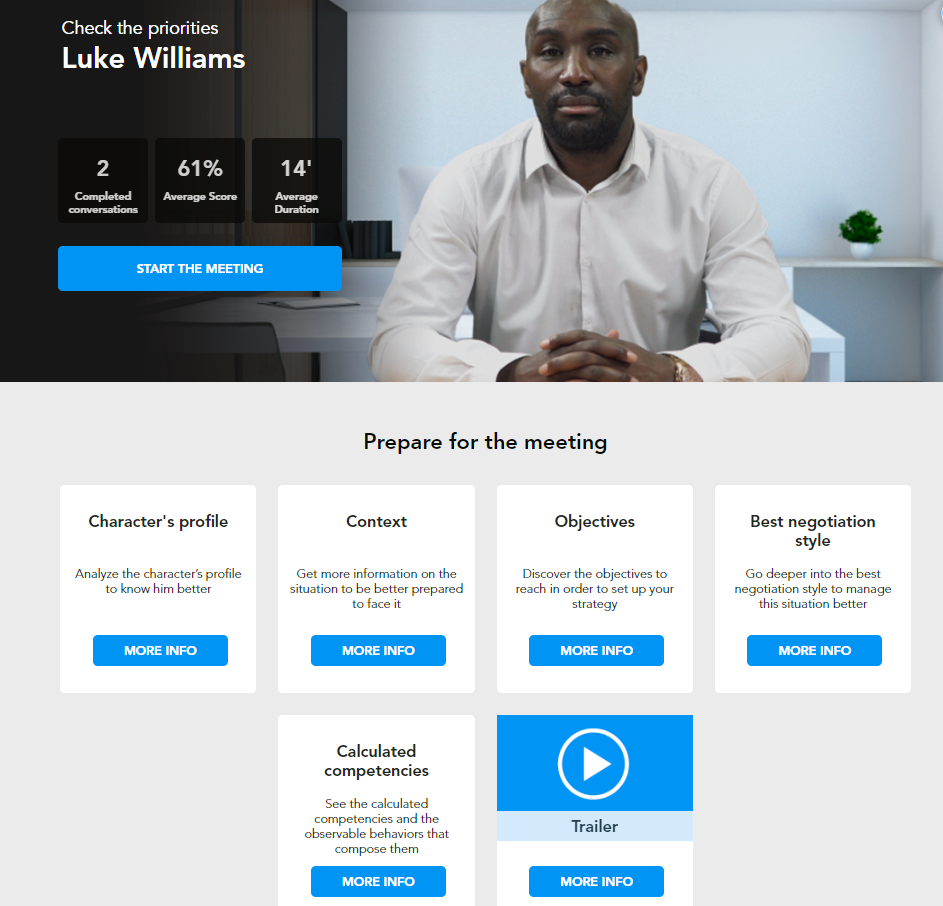 Complete, in all the details.
Each scenario is crafted with care to represent a real situation. The character is made up of a personality, a social background, visible and hidden needs to discover and address.
Trainees can prepare for the meeting by discovering the character's profile, the context of the conversations, the objective and the recommended leadership style they should apply.
This help you develop the powerful habit of preparing for a meeting.
Learn how we design our characters.

Smarter People Development is a click away.
Discover how SkillGym is helping hundreds of Organizations as well as Corporate and Executive Coaches deliver better and consistent communication training.
Emotional Feedback, Rational Metrics.
Each Conversation ends with powerful feedback and detailed insights on performance; to learn from experience.
Each simulation closes with a Feedback session. Long before providing metrics, it provides feelings. A privilege that we don't have in real life, the character personally reports after having returned to his desk and discusses informally with colleagues the outcome of the conversation.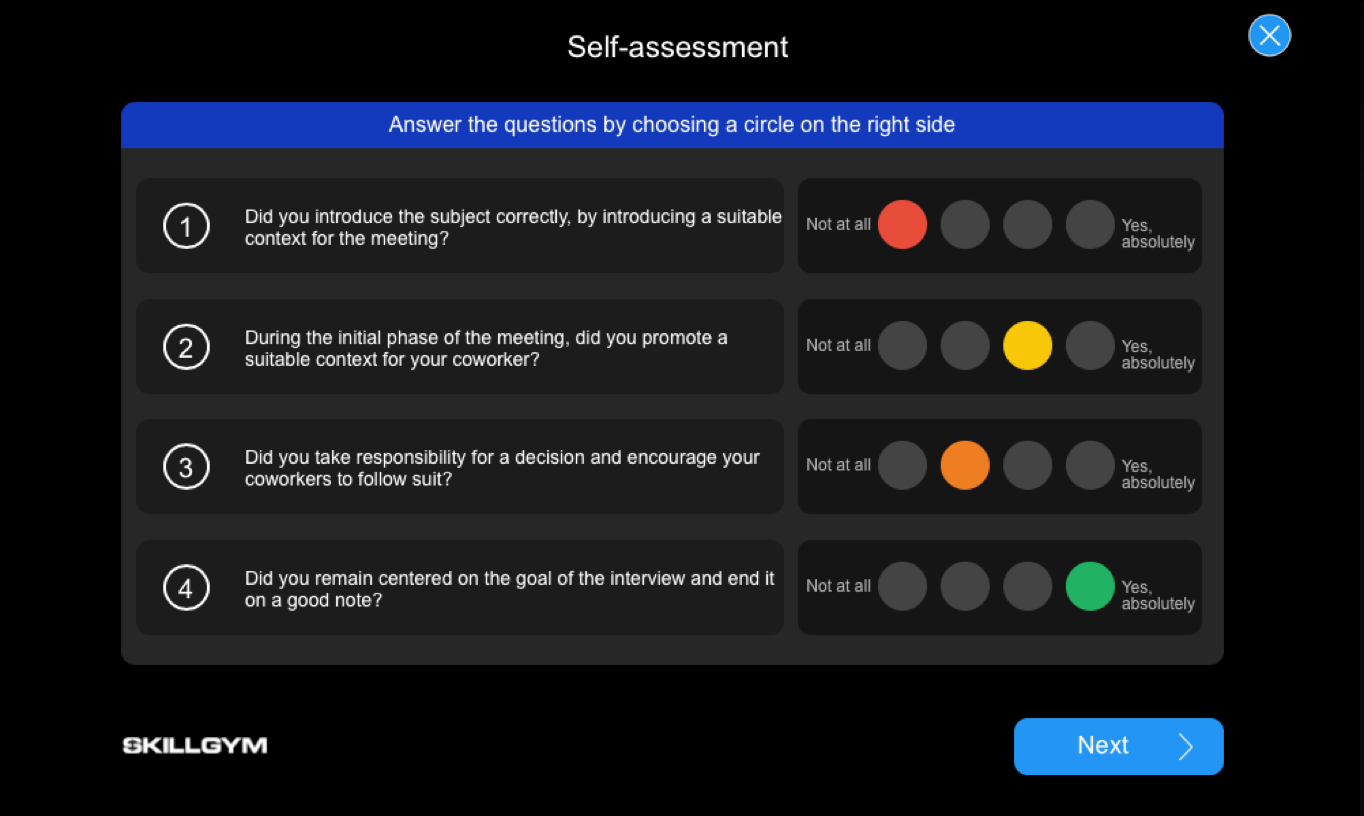 Challenging, on Self-Awareness.
At the end of each simulation, based on trainee's performance, SkillGym asks some questions to reflect upon, before providing feedback and metrics. A great way to assess self-awareness.
"If you can't measure it, you can't change it."
With all the metrics you may need.
SkillGym turns actions into sharp metrics, to quantify the results of performance. Confidence, Self-Awareness, 20+ communication-related Skills and effort-based indicators are duly tracked, monitored and benchmarked on the way. To make Evidence do the talking.
Learn more about the eight key SkillGym metrics that we recommend monitoring in any efficient training program.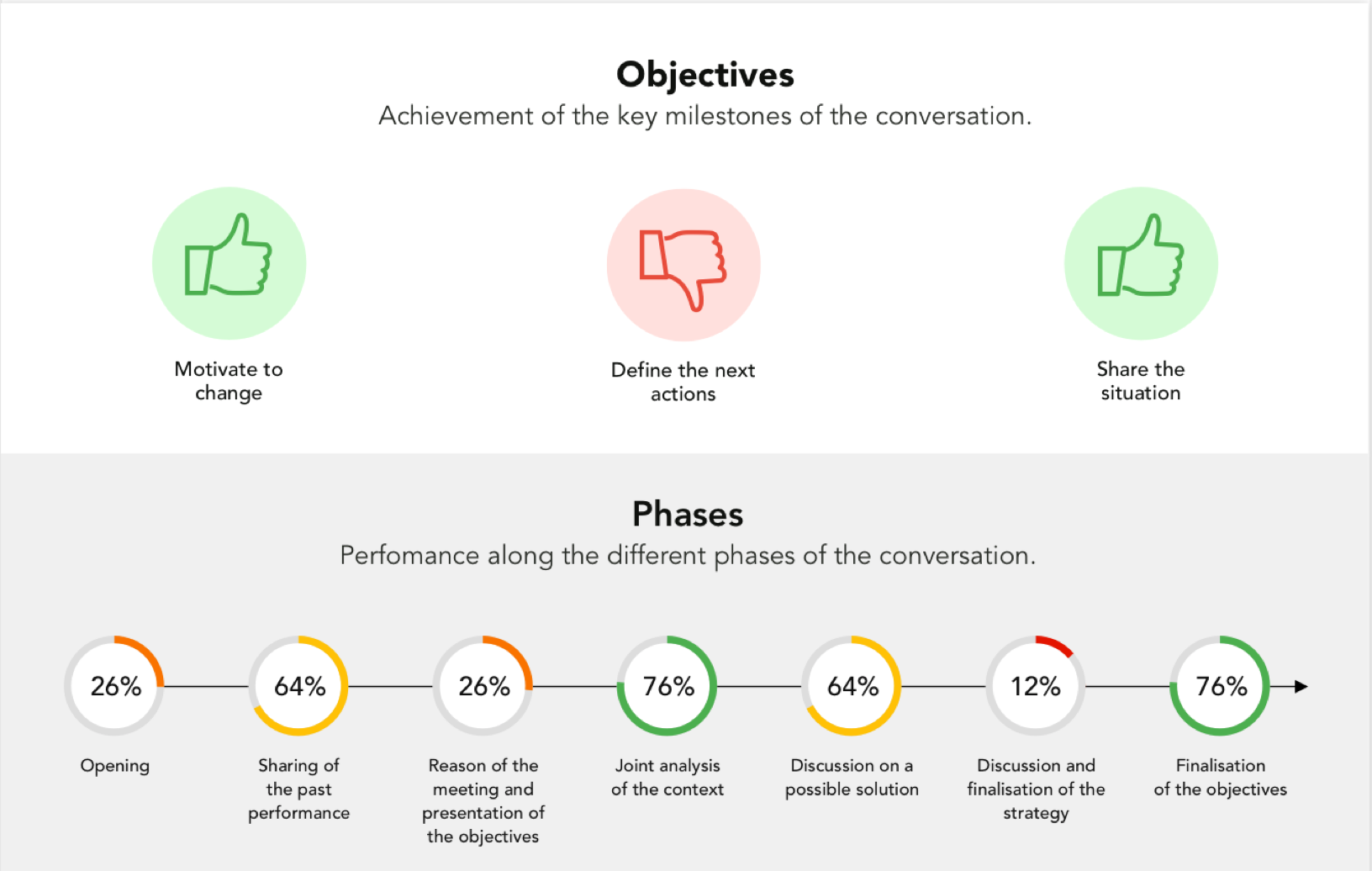 Smarter People Development is a click away.
Discover how SkillGym is helping hundreds of Organizations as well as Corporate and Executive Coaches deliver better and consistent communication training.
The power of Augmented Reality to review each conversation and learn from each behavior applied during the dialogue.
Augmented Replay lets you select any conversation played in the past and review it, watching the entire scene from a third party point of view. You can pause, skip, move forward and backward. The overlaid Performance Wave gives you one "at a glance" overview of the conversation's flow quality. Call-outs let you analyze the details and impact of each behavior, including the counterpart's relevant reactions.
Each sentence chosen during the conversation is presented showing the predominant underlying behavior and the level of quality applied. This is where self-awareness gets amplified by this amazing time machine that brings you back to where the action took place.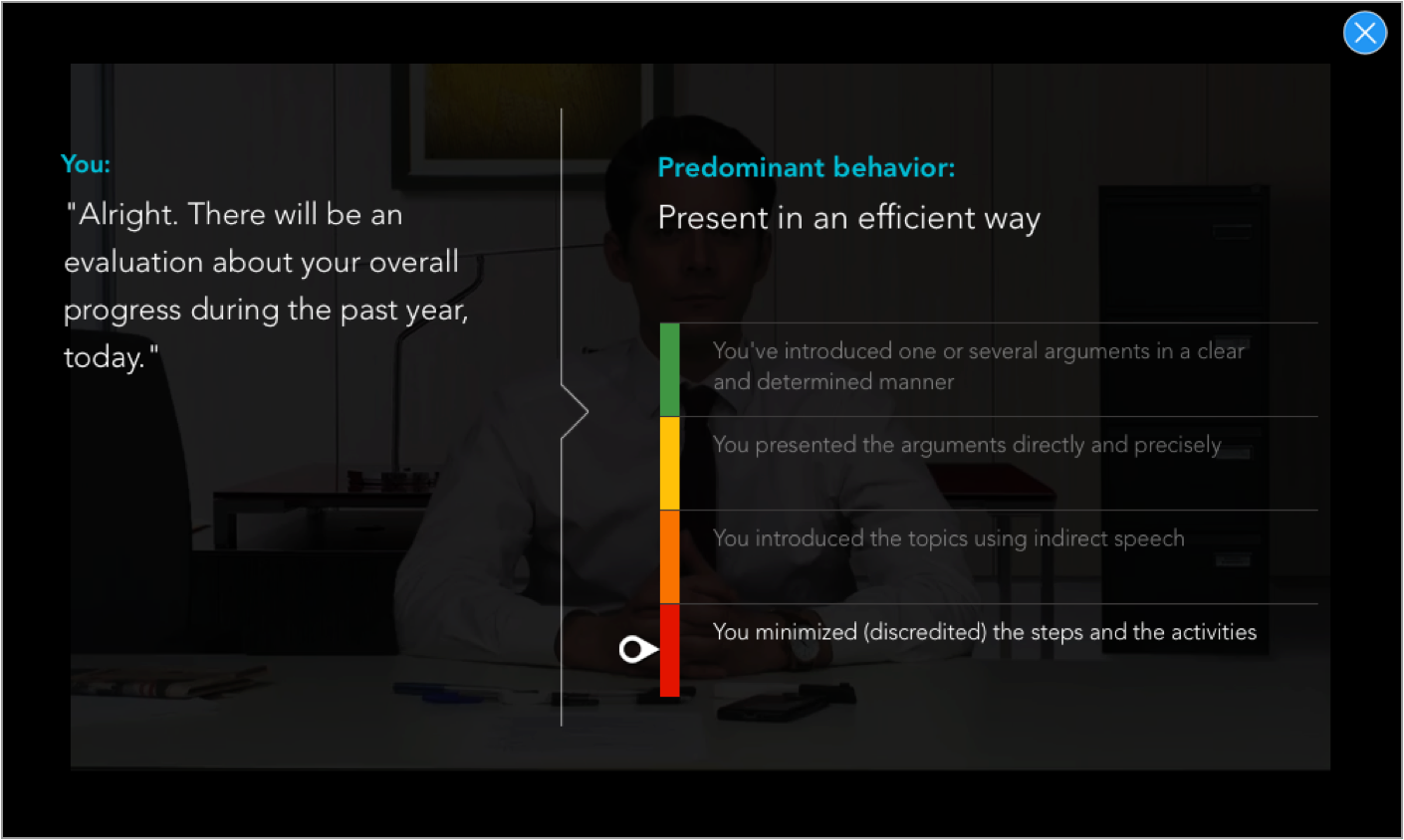 "What screws us up most in life is the picture in our head of how it is supposed to be"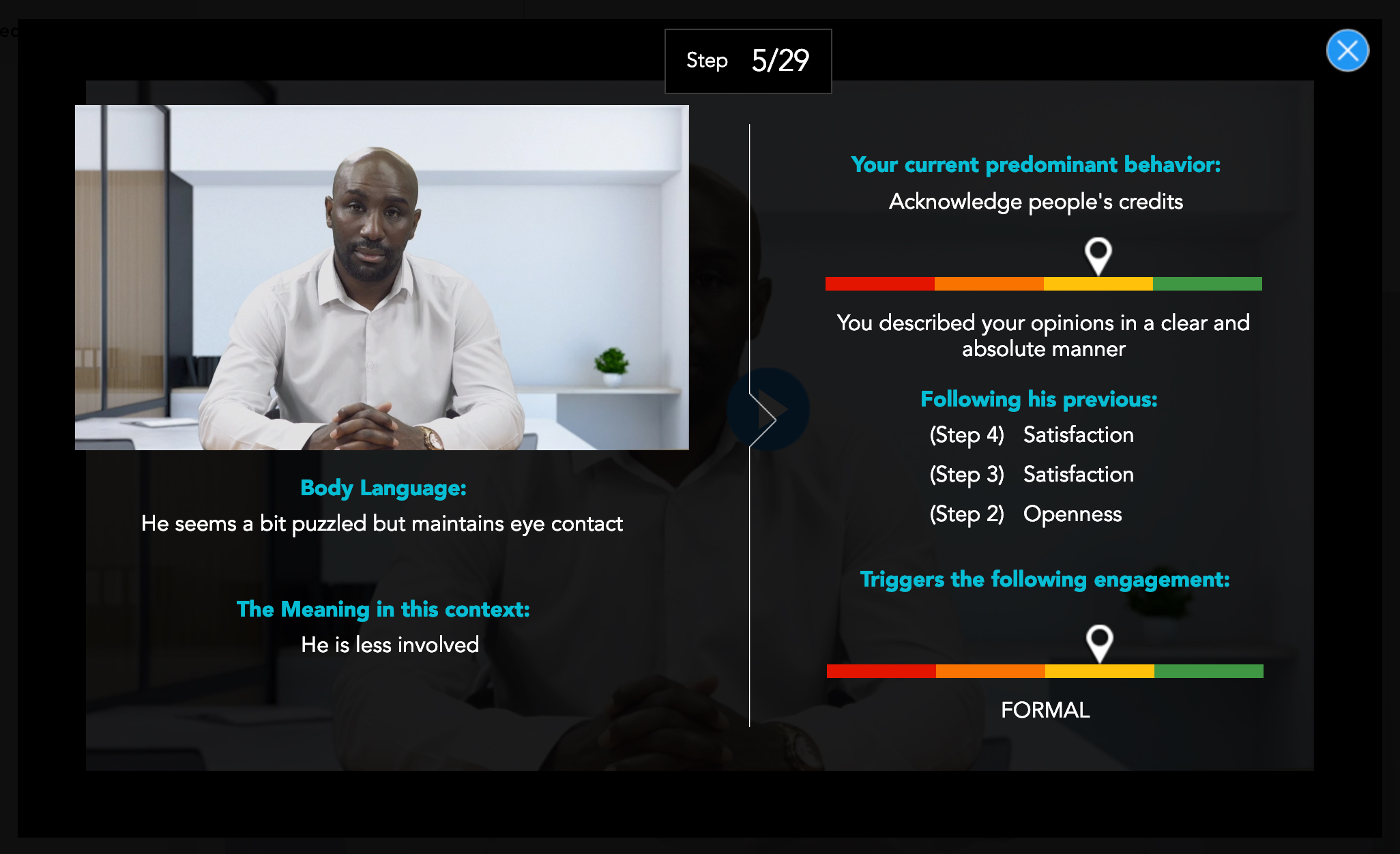 Augmented Replay shows and explains the character's true body language at each step of the conversation, to connect facial and body expressions to the circumstances and understand the relationship between what happened and the other party's gut reaction.
Analyze the conversation dynamics.
Trainees can follow the entire conversation, comparing the their approach to the character's reaction for each step of the conversation. This is fantastic information to generate self-awareness and to boost confidence, since it clearly shows how the echo of one's approach keeps resonating well after a sentence is spoken.
Learn how the Augmented Replay enhances the user experience.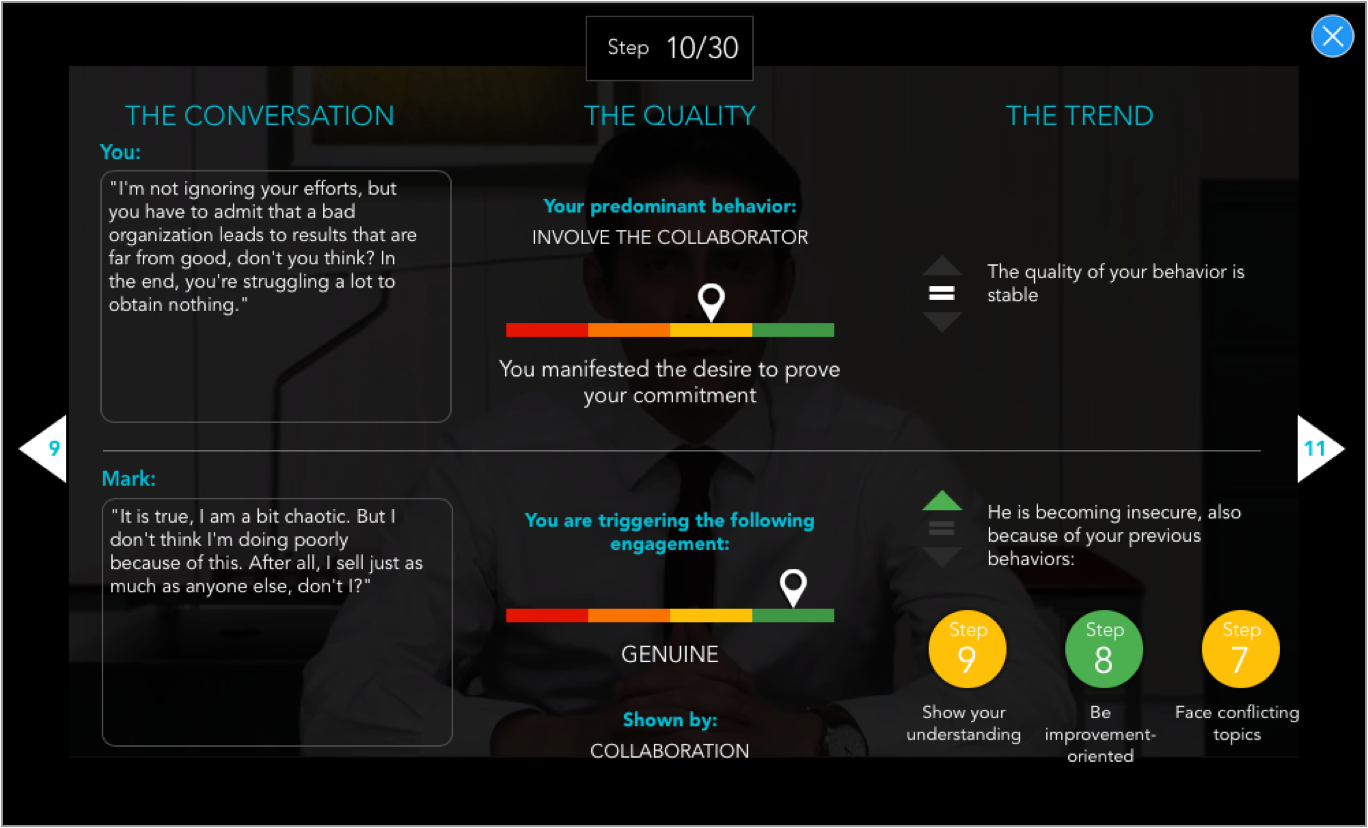 Smarter People Development is a click away.
Discover how SkillGym is helping hundreds of Organizations as well as Corporate and Executive Coaches deliver better and consistent communication training.
Turn your Competency Model into daily habits.
Map all the Skills available in SkillGym on your proprietary Competency Model ¹ and help your trainees understand how they can practically turn those competencies into actionable behaviors.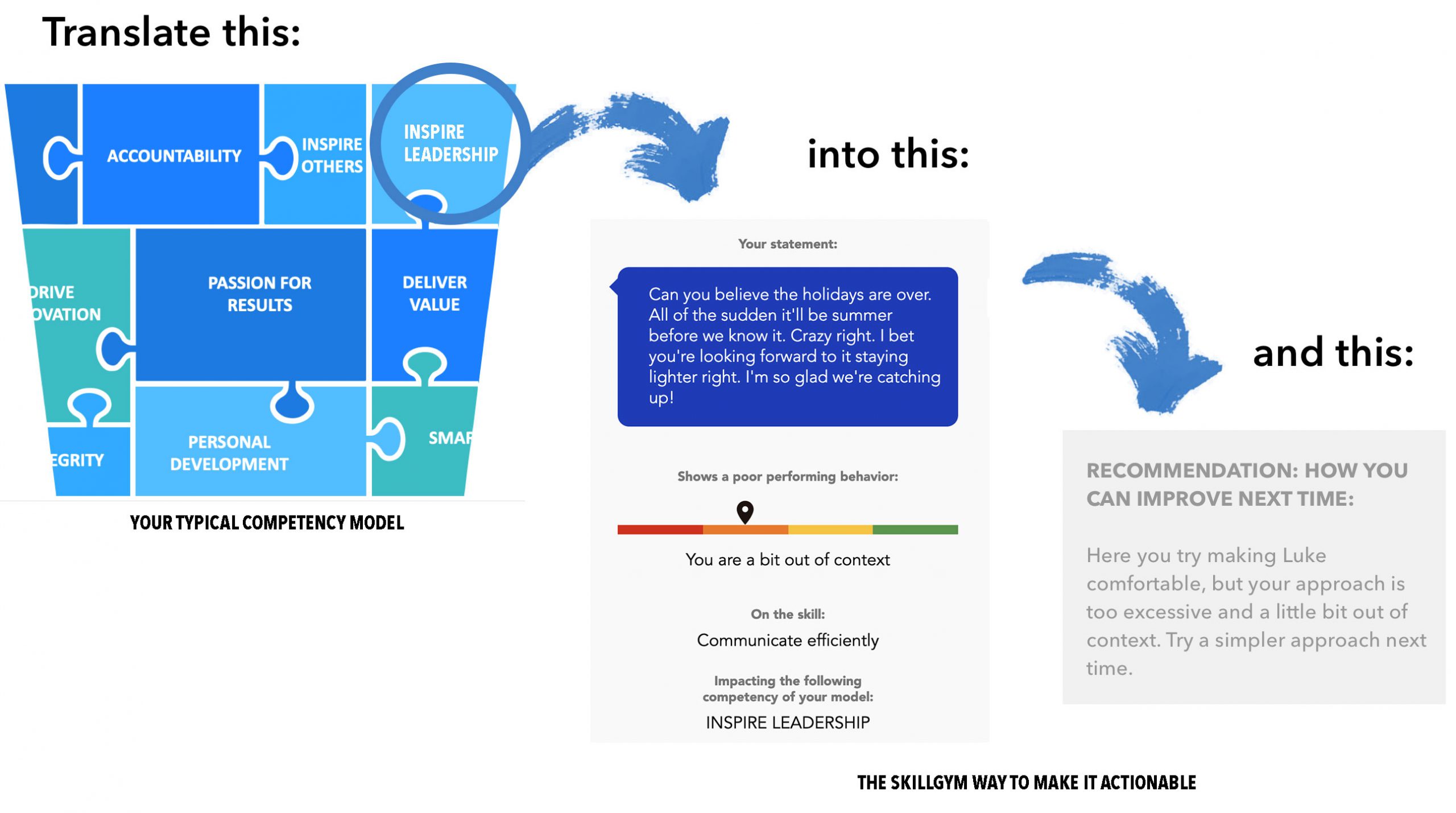 (1) Optional service, not included in the annual subscription.
Engage Trainees at Their Own Pace.
AI supports SkillGym to keep trainees engaged throughout the entire training program and automatically adapts the schedule to their real training needs.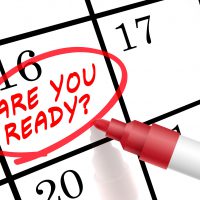 Leverage habits, to change habits.
You know that one of the biggest challenges when it comes to digital learning is about having users consistently accessing the contents and keeping the pace. SkillGym features The Butler, an automatic engagement system that lets user schedule life-like appointments directly on their calendar.
Learn how we take care of trainees' engagement.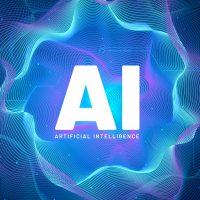 Digital Fitness, train your own way.
The more a program is designed according to the actual needs of the trainees, the higher the outcome was in terms of ongoing engagement. Digital Fitness is based on AI and learns the way trainees engage and improve with SkillGym. It also adjusts the training schedule accordingly to make the best use of their time.
Turn the intangible of soft skills into powerful information, available from a single dashboard, and think strategic about development.

Think of the importance of measuring the current level of skills and their development over time to ensure the best conditions to learning improvement. SkillGym goes beyond simple measurement, offering benchmarking and distribution mapping capability on each of the many metrics we track.
Monitor the improvements of all your trainees, identify talents, spot gaps. Make training efficient with the analysis of individual Learning Agility. Make sure everyone is engaged in the Program. Find out what is the real fingerprint of competencies in your organization.
Automate Support and Reporting.
Comprehensive video tutorials, help center and reporting features, to scale-up productivity.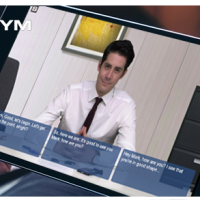 Onboarding video tutorials.
Whether you need to onboard trainees, other trainers or external supervisors, SkillGym features the right video tutorial series. From step by step guidance to conceptual explanations of how our brain works and what practicing is about.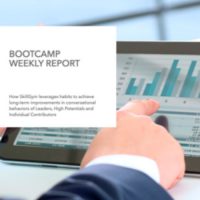 All the reports you need.
SkillGym delivers weekly, monthly and final reports directly to your email. And you can still workout your personalized figures starting from the exportable data in excel format.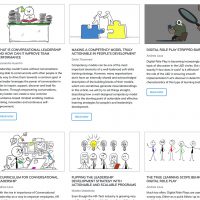 Comprehensive Help Center.
Frequently asked questions, dedicated articles to delve deep into our methodology, answers from the experts and a Fastlane to our dedicated ticket-based online support. This is SkillGym Help Center.