Leaders can change the world, one conversation at a time.
Develop and maintain Leaders' Confidence and Self-Awareness in Critical Conversations that matter, with our Authentic, Immersive and AI-Based Digital Role Play System.
The first AI-based Digital Role Play.
Interactive Movies meet Artificial Intelligence and a whole new life-like world turns into reality.
SkillGym features 12 proprietary algorithms, delivering an authentic and immersive Digital Role Play experience.
•  Dynamic flow of emotions
•  Evolutive interaction
•  Adaptive scheduling
Optimize Engagement through Adaptive Bootcamps.
Extend the learning experience by scheduling dedicated and personalized on-line training activities. Let your trainees schedule the Digital Role Play when it fits their schedules. Make training truly dynamic and adaptive.
Adaptive scheduling
Automatic Doodle-based booking
Digital coach debriefing
Individual and group training programs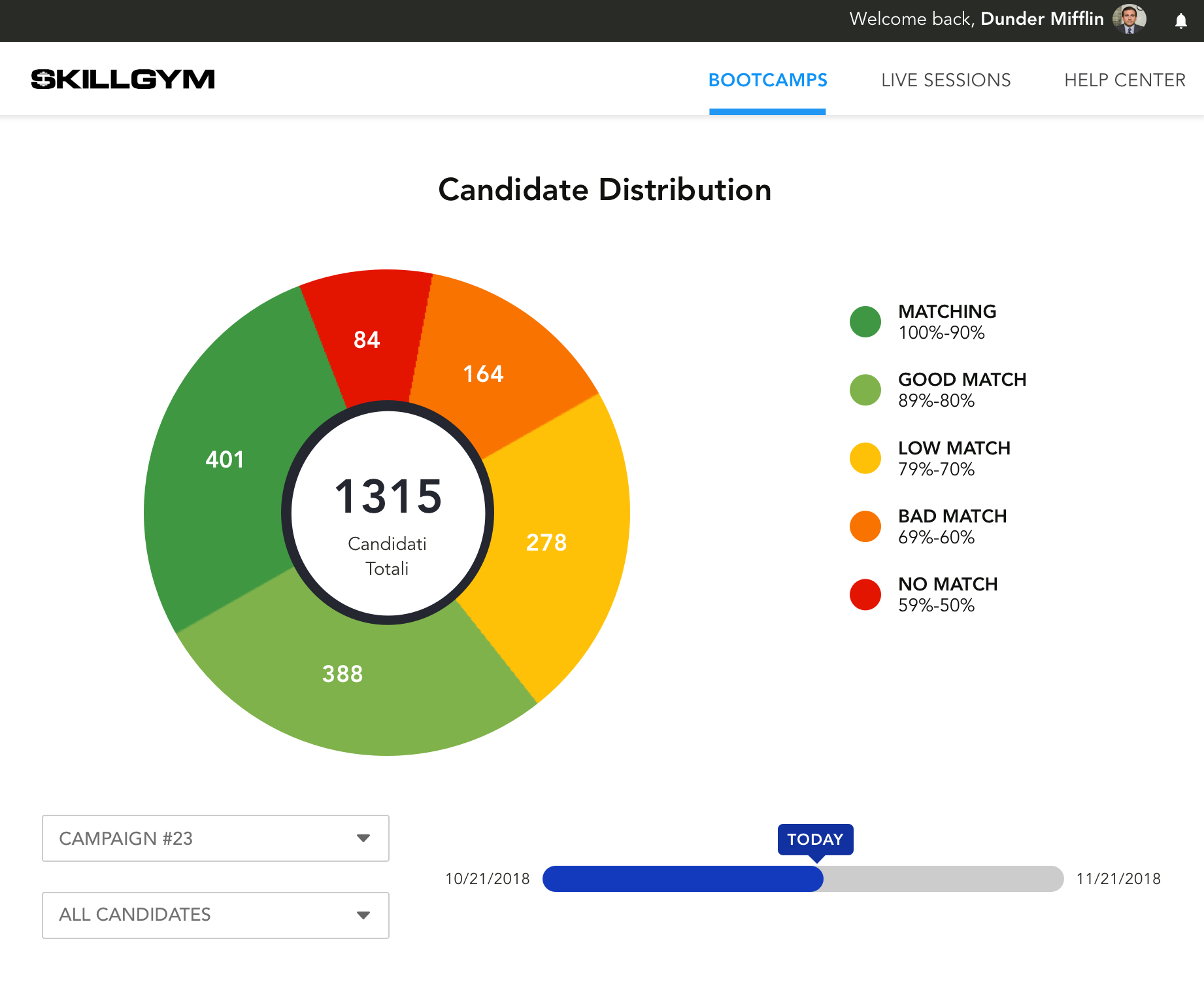 Extend your assessments to conversational leadership.
SkillGym lets you valuate the potential of your talents, measure the skills that matter and integrate your annual performance evaluation strategy with crystal clear metrics about conversational skills and social attitude.
Over 50 behavioral KPI
Exportable metrics
Immersive measurement
Great for recruiting and employer branding
Practice using a growing library of Leadership Conversations.
SkillGym comes with a regularly updated catalog of original scenarios covering the most challenging critical conversations that leaders face every day.
Comprehensive plots
Mapped based on leadership competences
Completely localized
Quarterly updates
Smarter Leadership Development is a click away.
Discover how SkillGym is helping hundreds of L&D Professionals as well as Corporate and Executive Coaches deliver better and consistent leadership training.
Reserve 1 hour with our experts
300,000+ leaders already love SkillGym.
Join a growing community of thousands of Professional Trainers, Coaches, Companies and satisfied Leaders leveraging SkillGym to develop their Critical Conversation skills through smart-simulated practice.