Assess Potential.
SkillGym is the perfect tool for assessing the your employees' leadership potential. You can easily use assessment sessions to measure specific types of skills and competencies by selecting the type of conversations.
In less than one hour, users go through your favorite set of Digital Role Plays and are measured in real time on up to 50 different skills.
A comprehensive dashboard shows the results, allowing for the measurement of individual and group performance including an option to benchmark the outcomes with our worldwide Big Data.
Measure Natural Behaviors.
The difference in measurement quality between assessing through a classic multiple-choice test, or even a traditional in-basket, and an AI-powered Digital Role Play System as SkillGym is huge.
In SkillGym, users are completely immersed in a real-time simulation in which each step is influenced by the flow of the conversation and several algorithms function throughout the entire session to make it as authentic as possible.
The result is a very realistic thus promoting users to interact by expressing their natural behavior instead of just showing their conceptual approach to the problem.
The benefit: a much clearer vision of how the users really face critical conversations and to which extent their performance skills have evolved.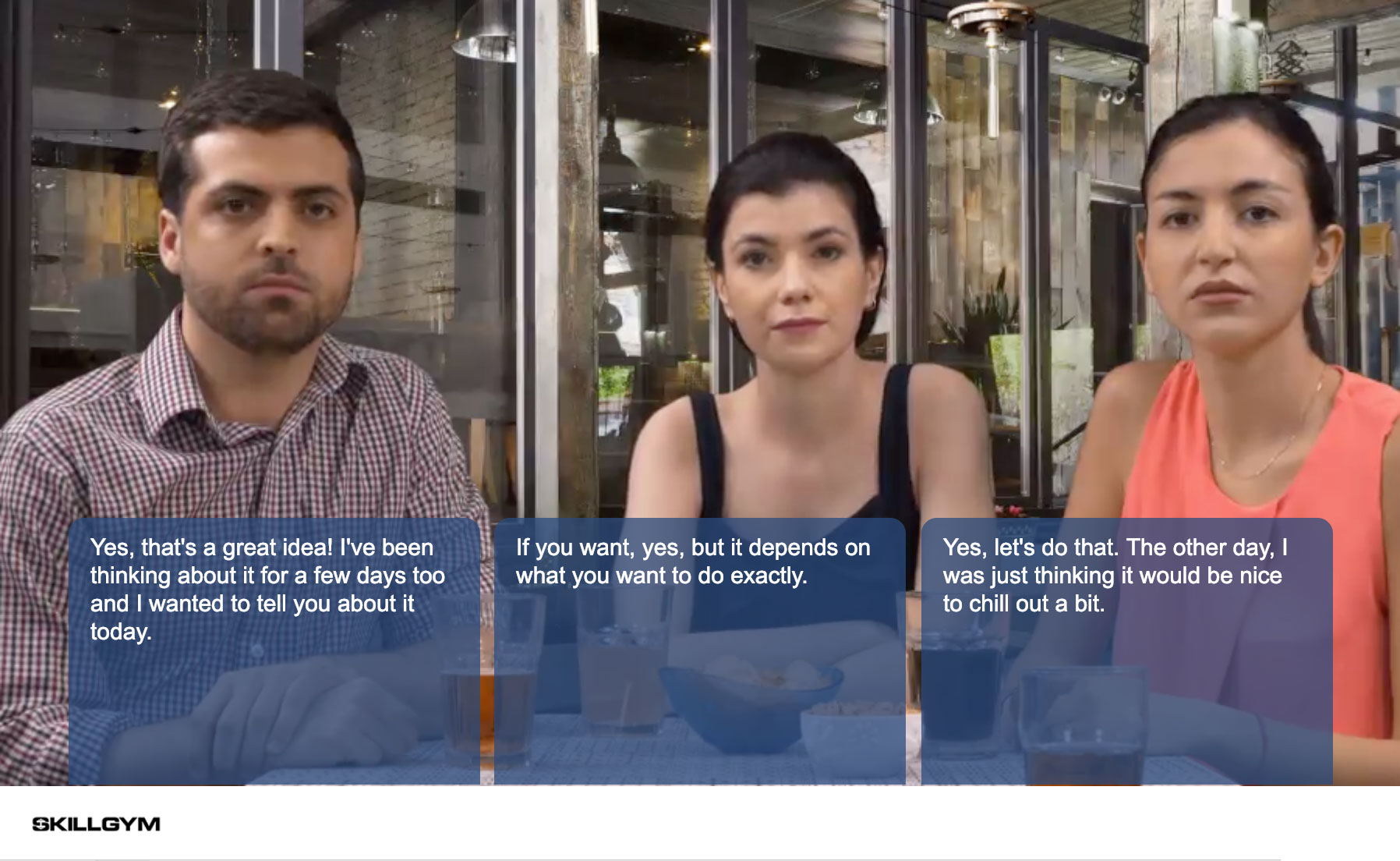 Certificate Skills.
SkillGym can be integrated in your annual Performance Review processes to provide a new angle and a broader vision on the skills that truly matter in business.
The SkillGym Bootcamp Manager allows you to deploy multiple scheduled assessment sessions throughout the year and to track progresses between of each measurement.
One single Dashboard shows the status of the utilization and the incoming results.
SkillGym Butler manages all of the automated invitations and reminders.
All the data can be then exported to be merged in any other Performance Review workflow.
Check Candidates' Attitudes.
One specific Digital Role Play in SkillGym is dedicated to the measurement of people's deep approach, which we call "Attitude".
SkillGym Attitude is a smart simulation involving users in a non-business conversation, in which they are asked to organize a leisure weekend with their friends. Users soon discover that it won't be as easy as it appears.
Attitude is the perfect way to assess the subtle approach people have with themselves, with others and with the circumstances they face. It's also particularly useful when selecting new hires if evaluating these important elements is required.
In the course, 45 different skills are assessed using a 5-point scale to provide a crystal clear picture of one of the most important, and sometimes less transparent, human factors.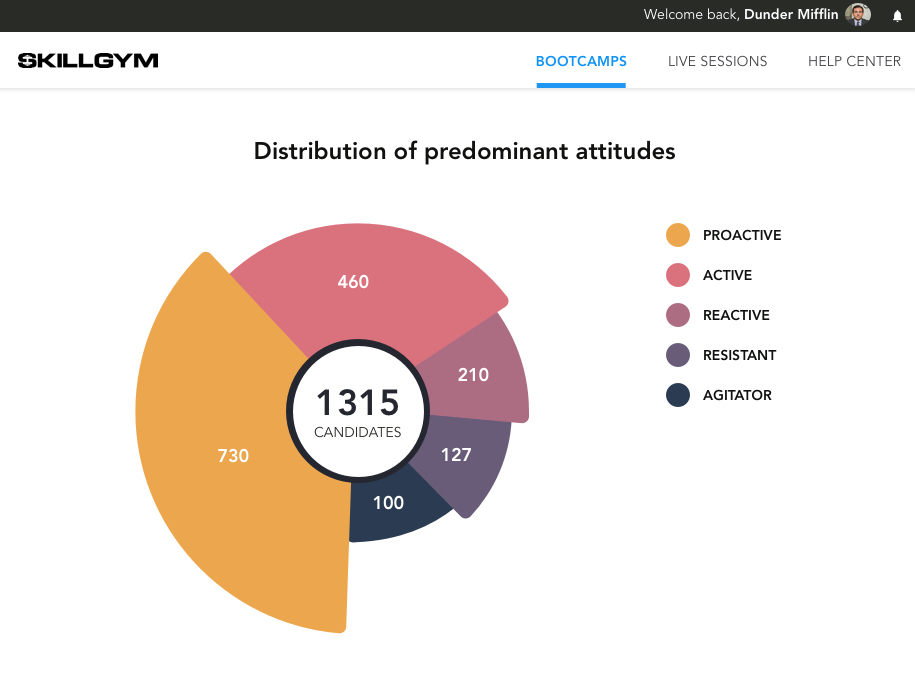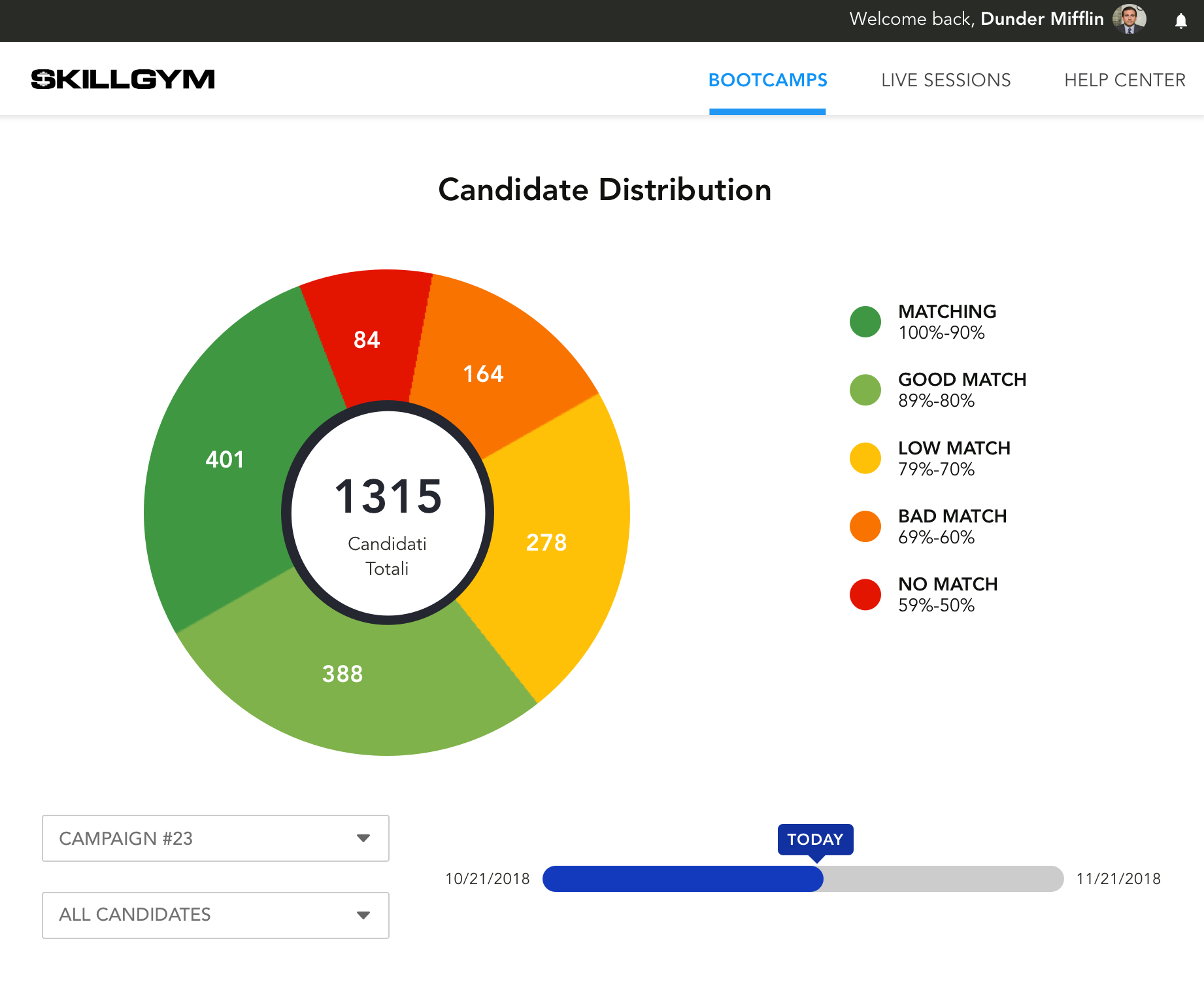 Enhance your Employer's Branding.
When it comes to selecting new hires, it is not just a matter of the efficiency and quality of measurements. This is where SkillGym is a great choice.
A well-designed Employer's Branding strategy can make a huge difference with regard to attracting the right candidates and presenting the sought after image of the "cool" company.
Involving candidates in a SkillGym assessment is one of the best ways to start out on the right foot and involve the people you are really looking for.
Smarter Leadership Development is a click away.
Discover how SkillGym is helping hundreds of L&D Professionals as well as Corporate and Executive Coaches deliver better and consistent leadership training.
Reserve 1 hour with our experts