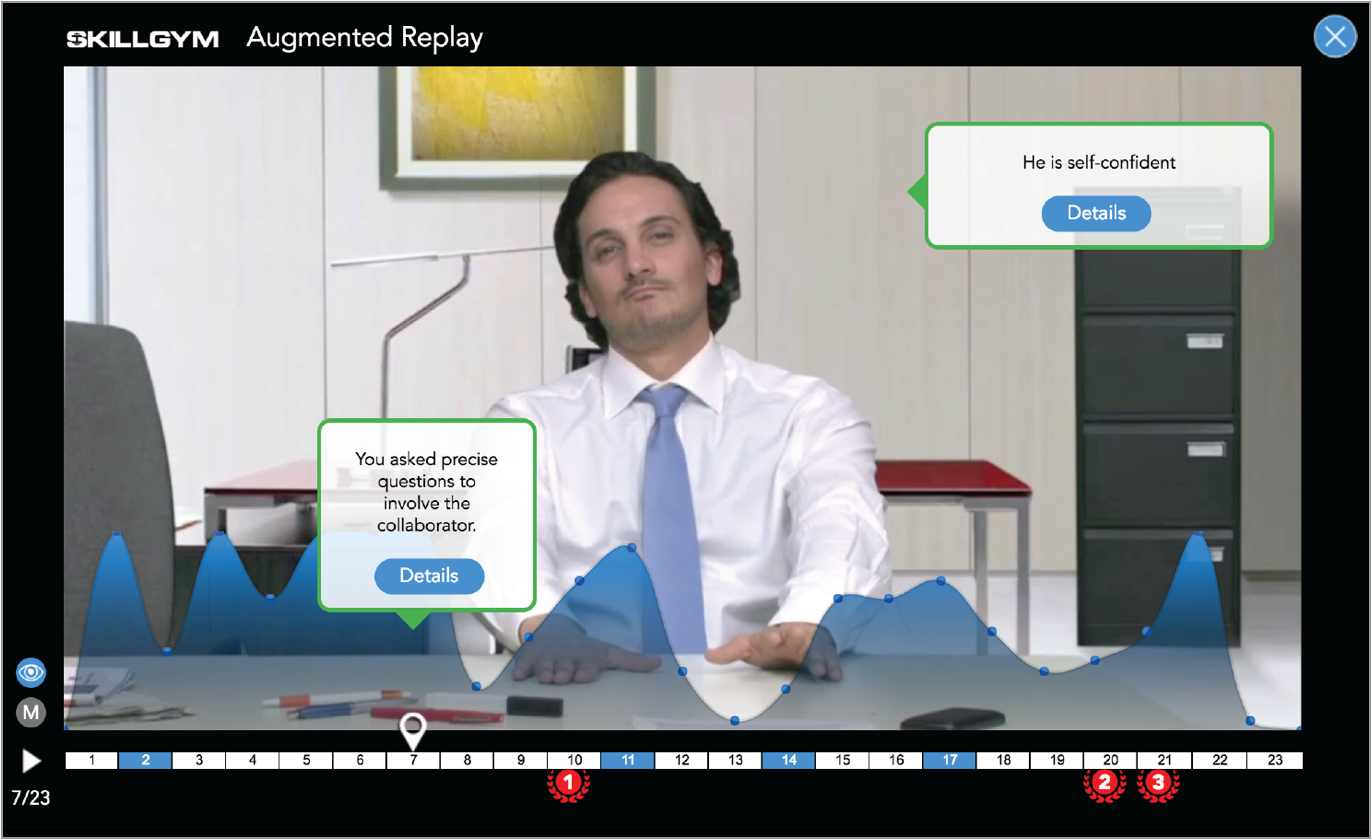 Review any Conversation.
Augmented Replay lets you select any conversation played in the past and review it, watching the entire scene from a third party point of view.
You can pause, skip, move forward and backward, choosing what to look at. The smart timeline highlights the most significant steps worth analyzing.
The overlaid Performance Wave gives you one "at a glance" overview of the conversation's flow quality. Call-outs let you analyze the details and impact of each behavior, including the counterpart's relevant reactions.
Discuss the approach.
Each sentence chosen during the conversation is presented showing the predominant underlying behavior and the level of quality applied.
The availability of the entire canvas of possible options allows a deep reflection on why a specific attribute was applied and what should be done next time to achieve the next level of performance.
Whether it is for tutor-led training review or for self-paced training development, this is where self-awareness gets amplified by this amazing time machine that brings you back to where the action took place.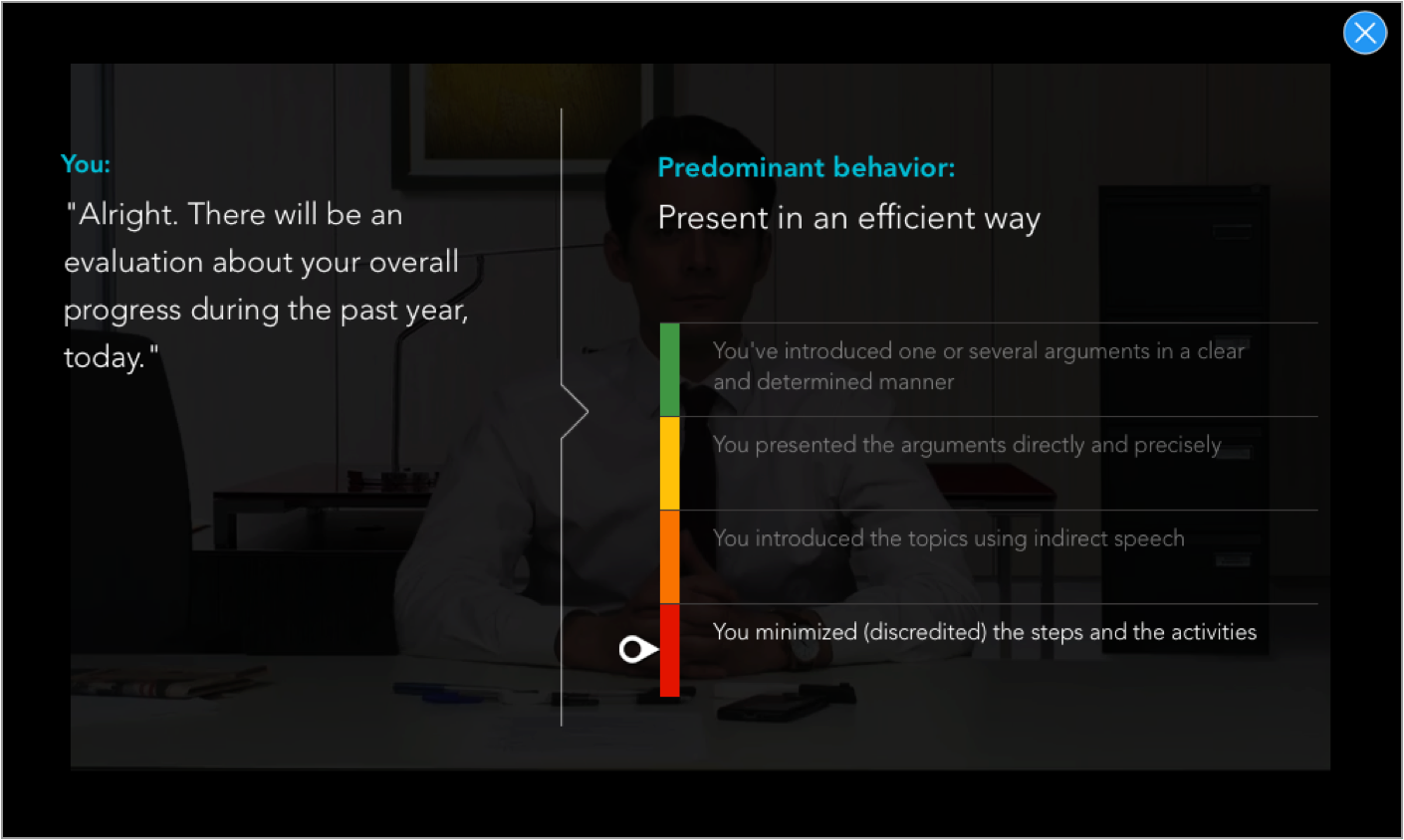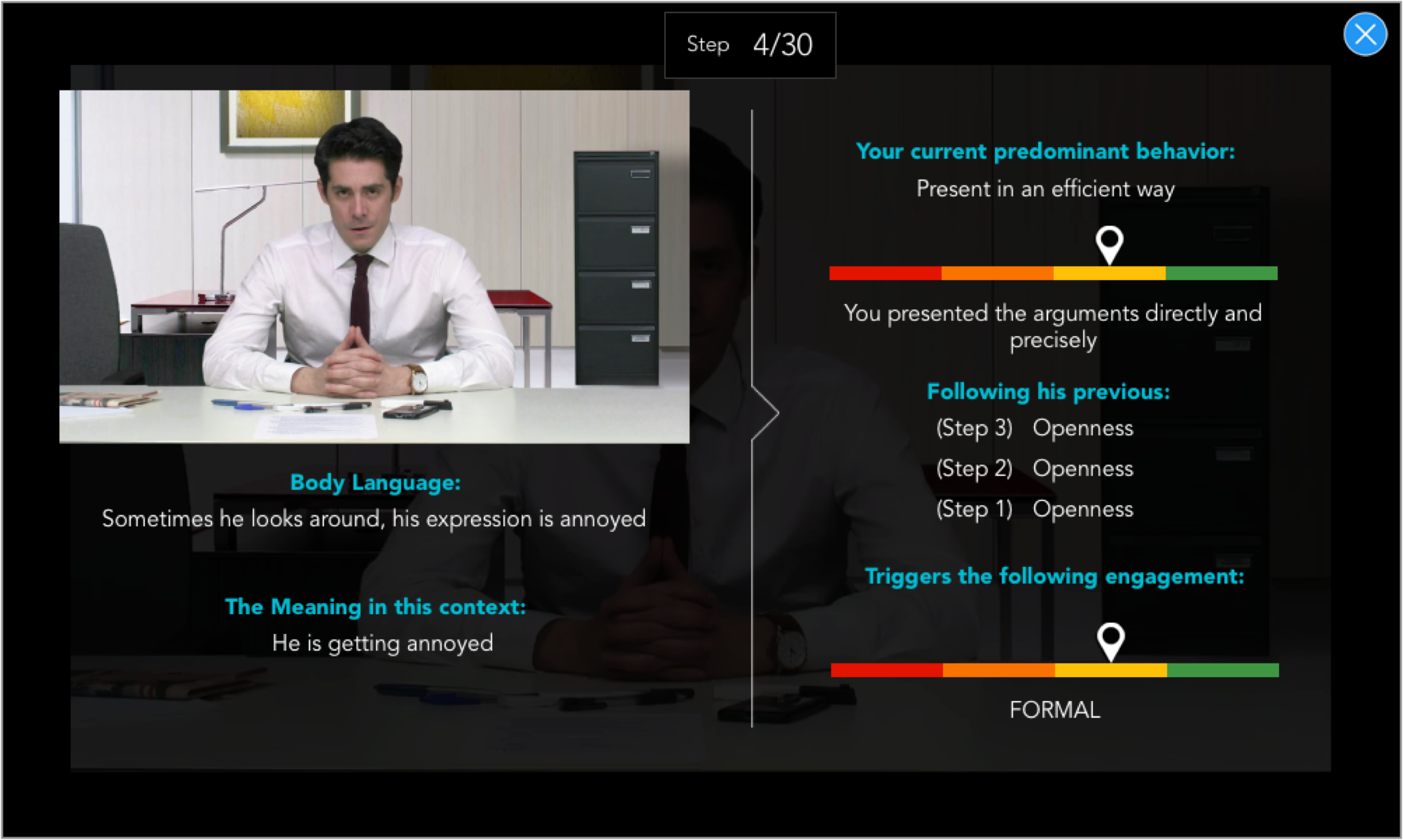 Reveal body language.
Augmented Replay presents the true body language of the character at each step of the conversation helping to connect facial and body expressions to the circumstances.
The relationship between what just happened and the character's gut reaction, the meaning of certain expressions and their relation to the flowing history of the conversation improve trainees' ability to recognize those subtle elements of the conversations that are normally less comfortable to deal with.
Analyze the conversation dynamics.
You can follow the entire conversation, comparing the trainee's approach to the character's reaction for each step of the conversation.
Augmented Replay shows the reciprocal trend of quality, highlighting which past behaviors are still influencing the approach of the counterpart.
This is fantastic information to generate self-awareness and to boost confidence, since it clearly shows how the echo of one's approach keeps resonating well after a sentence is spoken.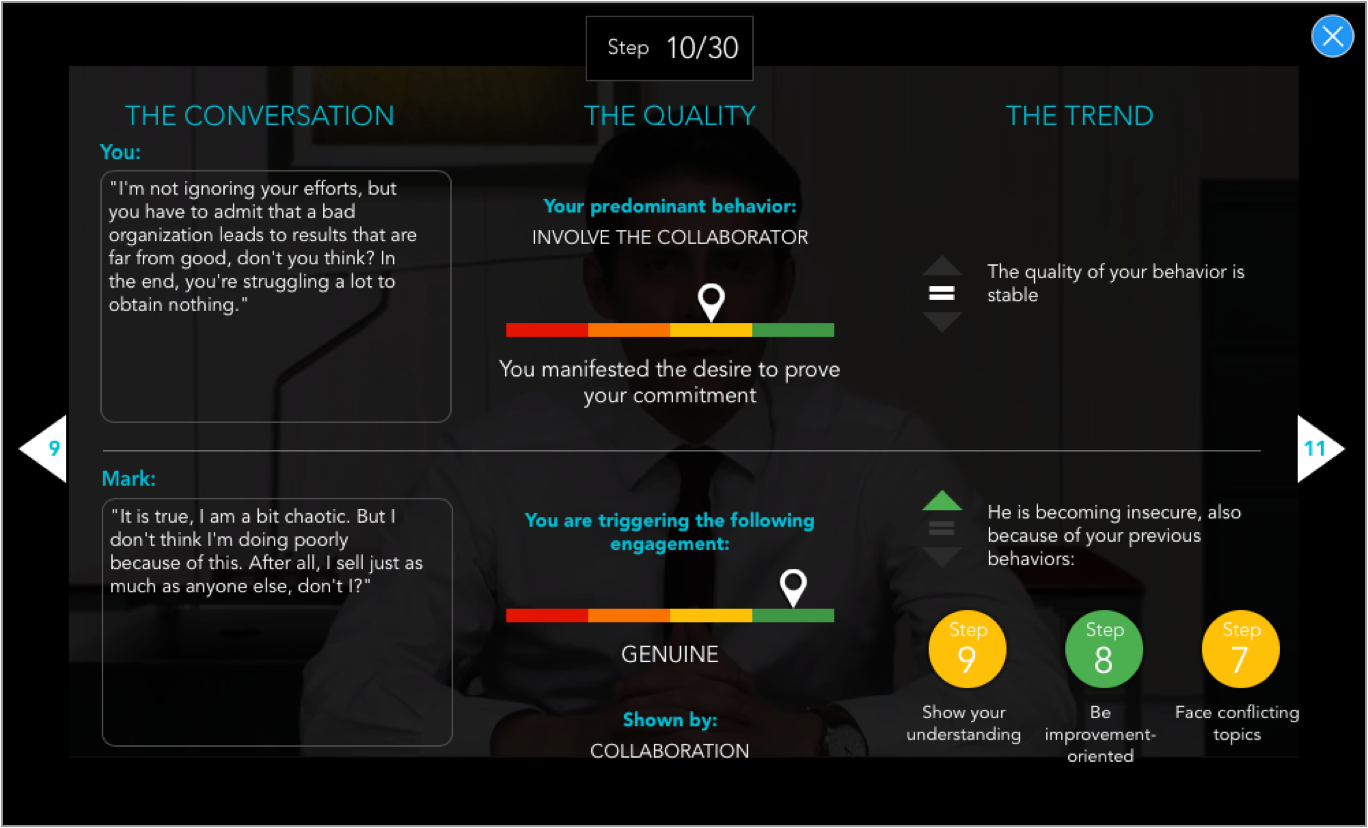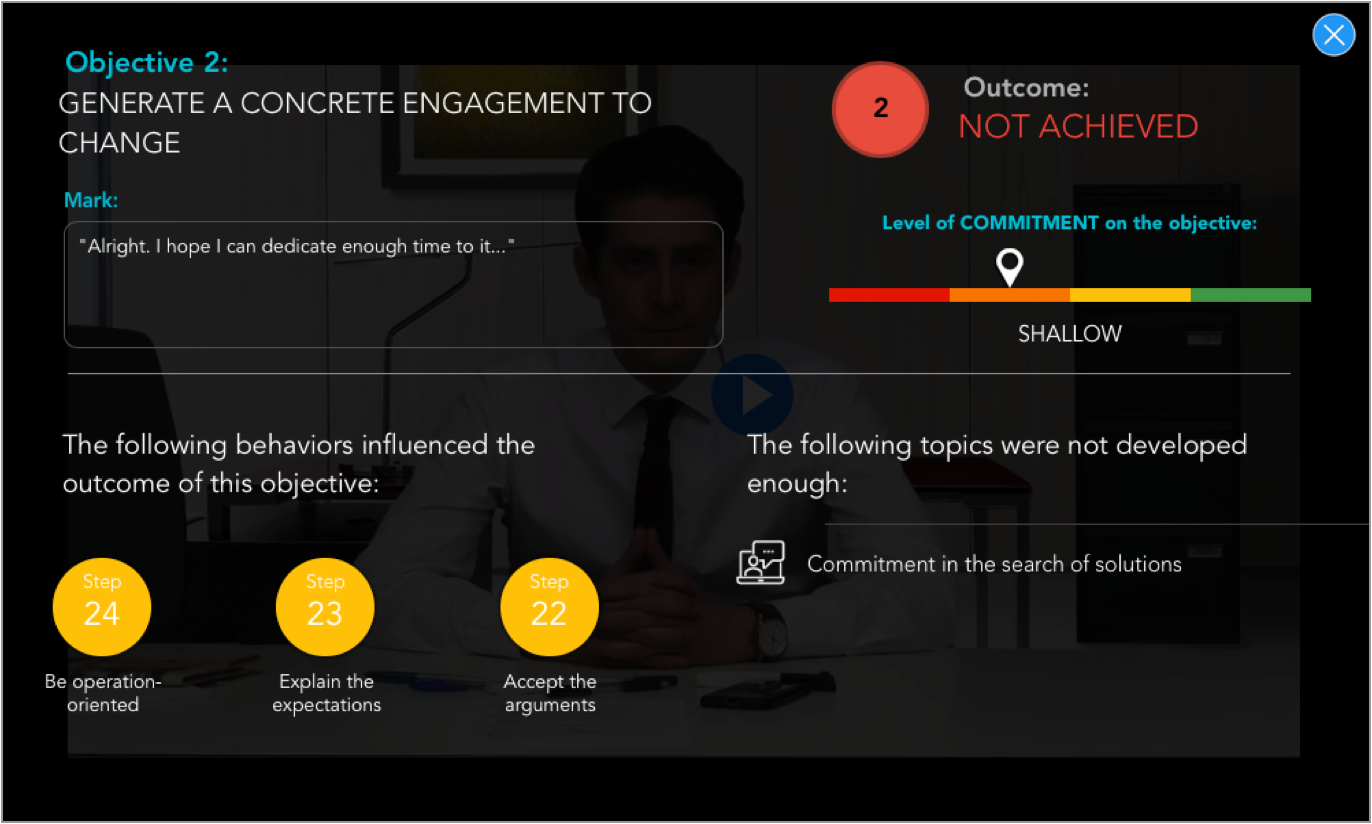 Evaluate the outcomes.
Each planned objective along the conversation can be evaluated in terms of what the character meant and how that sentence actually influenced the general outcome of the conversation.
Discover step by step which specific behaviors and topics influenced the strategy of the discussion and thus, the final result of the dialogue.
Smarter Leadership Development is a click away.
Discover how SkillGym is helping hundreds of L&D Professionals as well as Corporate and Executive Coaches deliver better and consistent leadership training.
Reserve 1 hour with our experts